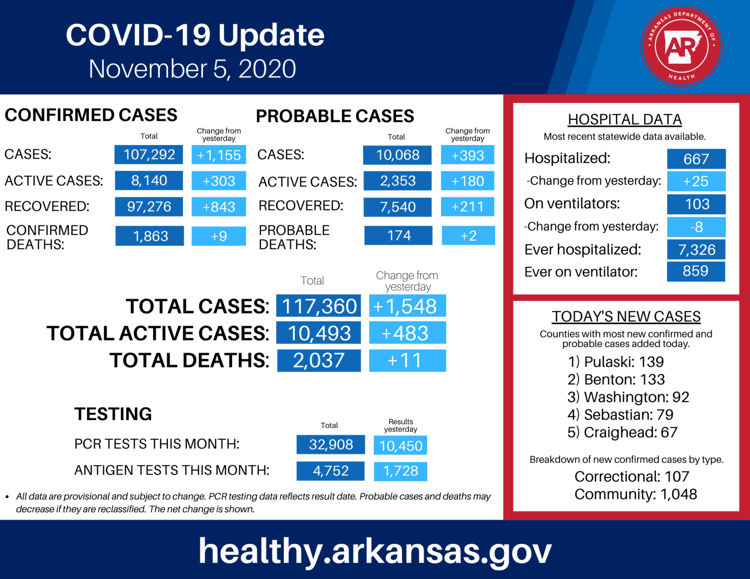 According to the Arkansas Department of Health, new confirmed cases of COVID-19 rose by 1,155 to a cumulative confirmed total of 107,292 with 8,140 confirmed active cases and 97,276 recoveries. 
Hospitalizations rose by 25 to 667 with 103 on ventilators. 
Deaths increased by nine to 1,863. 
The ADH reported 393 new probable cases for a probable total of 10,068 with 2,353 probable active cases, 7,540 recoveries and 174 probable deaths. 
The state received results for 10,450 PCR tests and 1,728 antigen tests. 
The counties with the most new cases are Pulaski with 139, Benton with 133, Washington with 92, Sebastian with 79 and Craighead with 67. 
Saline County has had 3,229 cumulative cases — 2,867 confirmed and 362 probable. Active cases are at 360 — 251 confirmed and 109 probable. There have been 2,829 recoveries — 2,578 confirmed and 251 probable. The county has had 39 deaths — 37 confirmed and two probable.
Nationally, there have been 9,544,315 cases with 3,743,527 recoveries and 234,300 deaths. 
"Today's significant increase in new cases shows that we have the virus in all our communities," Gov. Asa Hutchinson said in the release for the numbers. " Our increase in hospitalizations breaks the recent trend of smaller numbers. The coming weeks are critical, and we must be diligent, intentional and not be careless.