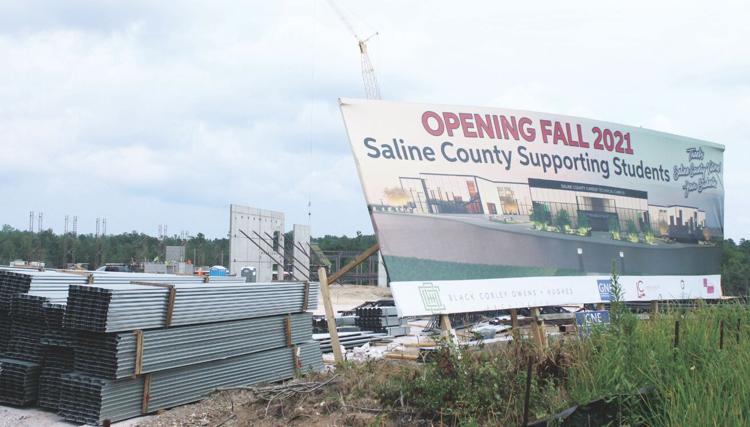 "The CTE Center construction is going very well," said Saline County Judge Jeff Arey.
The center, a collaboration between local school and county officials, along with business owners, will be located on Mountain View Road near Exit 114 and according to Arey, is on schedule to open in August 2021.
Students from six school districts — Benton, Bryant, Bauxite, Glen Rose, Harmony Grove and Sheridan — will have the opportunity to take classes in 10 different pathways. In seven of the pathways, upon graduation, students will have the needed certification to earn a job and begin a career.
To cover the construction costs of the center, a ballot item — Issue 6 — for a 3/8-cent temporary sales tax was proposed.
In 2018, More than 20,000 votes, or 54.93 percent, were cast in favor of the issue and about 18,000 people, or 45.07 percent, voted against the ballot item.
In 2019, Black Corley Owens + Hughes Architects was selected to design the project and CDI Contractors won the bid.
CDI submitted a bid for a project at a cost of $27,899,000 and a timeline of 515 days.  
"I am happy to say that we are within our budget on our construction costs so far," Arey said. "We expect that to continue. The contractor is doing very, very well on his timing and reports to me that he expects there to be no delays and he will meet or exceed his deadline in the construction,"
The campus is 140,000 square feet and will be separated into four major areas. Lab spaces for the various pathways will be constructed, as well as multipurpose classrooms and a common area featuring an auditorium designed to fit 400 students.
In July, Brian Black of BCOH told The Saline Courier that the final product will be worth the wait.
"Our residents will benefit from this facility in many ways," Black said. "High school students will now have numerous options to train for high-paying careers, while graduating with zero debt. There is no down side. When our youth are empowered to improve their lives, everybody wins. In addition to the personal satisfaction of having a great job, tax revenue goes up, crime goes down and our community becomes a more wonderful place to live. I can't wait to see the impact that this facility makes on Saline County."
Arey said the CTE operation board, which is similar to a school board, will begin to meet in early 2021.All six superintendents along with their staff and staff from ASU - Three Rivers have already been meeting over the last several months in order to fine tune school details such as equipment needs, class schedules and how the school will operate.
"There are just a lot of details with new school like this," Arey said. "There will be many, many more of these meetings going into 2021."
Although some delays were initially predicted due to COVID-19, Arey said the progress has not been affected.
"Really, not all," Arey said. "We have not heard, so far, we have not heard about any delays on materials, costs or anything like that…it hasn't been anything that has affected the budget or anything that has affected the timeline."
While no official public relations campaign has started, Arey said that all the schools district have begun to promote the center to students within the schools themselves.
"They want to start promoting the programs within the schools to the students  in the last part of this school year in preparation for people to sign-up for programs that will be taught next year."
Arey added that once construction is complete, a promotional campaign for the community is expected to begin, not only for students but for economic development companies and other businesses.  
"We will certainly use (the CTE Center) as a marketing tool and promote business and industry to come to our county." Arey said. "We want to wait until the schools is open and we have students in the school and its doing the things it was intended to do which is to teach occupational skills to high school students."
Arey said that the CTE Center is also looking into possible partnerships that could provided opportunities for adult education and job training.
"That will come later," Arey said.