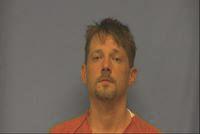 A father is facing a misdemeanor charge after he reportedly left his child in a vehicle at a Haskell business. 
The Haskell Police Department was notified Monday at approximately 4 p.m. that Christopher R. Schneider, 39, had left his 2-year-old child unattended inside a vehicle while it was parked at Dollar General. 
The person who reported the incident told police the man had been inside the store for approximately 15 minutes, according to a police report. 
When an officer arrived, the vehicle was not running and the windows were rolled up. The officer also noted in the report that at the time of the incident, the temperature outside was 97 degrees with a heat index of approximately 110 degrees. 
"He stated he didn't think he was going to be inside very long, and it 'really wasn't that hot in the vehicle,'" the officer wrote in the report. 
"Mr. Schneider also stated that he didn't want to wake his child because she was sleeping."
Schnider was arrested and taken to the Saline County Detention Center for allegedly endangering the welfare of a minor.