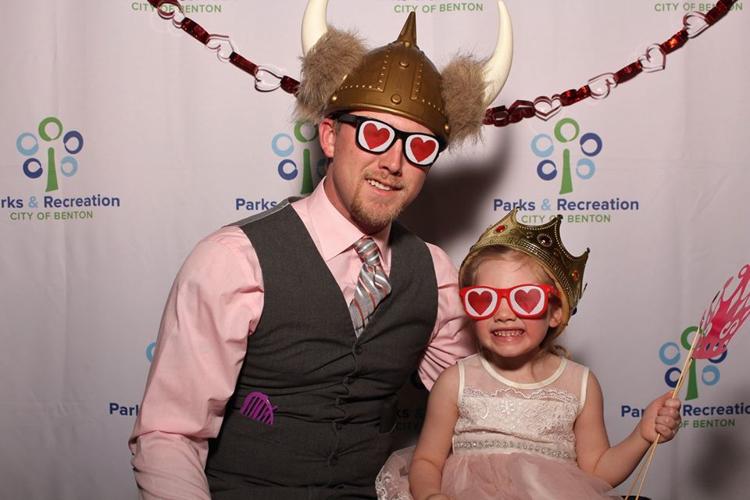 Fathers will be able to dance the night away with their daughters during the Benton Parks Department's fifth annual Father-Daughter Dance from 6 to 8 p.m. Feb. 7 at the River Center, 1800 Citizens Dr. in Benton. 
The dance is sponsored by Finley Pharmacy. 
"The Father-Daughter Dance is an opportunity for kids to get together with their dads for a special night of dancing," said Special Events Coordinator Grant Watts. 
He added girls tend to love to dress up so the suggested attire for the event is Valentine's Best. Dads typically wear either a suit or button down shirts and slacks. The girls get dressed up in dresses. 
The event features a live disc jockey, photo booth and a chocolate fountain. Riverside Grocery and Catering will provide light snacks. 
Watts said the event is always a special night for the dads or adult male role models and the girls who attend. He feels it is a great bonding time.
Watts expects to have around 150 couples in attendance, with some couples adding extra children. 
The Parks offers events like this in an effort to reach out to more of the community and provide different events. Watts said the staff works to give residents unique opportunities and fun programs for families. 
The Father-Daughter Dance, along with its Mother-Son Dance counterpart, recently won the Arkansas Recreation and Parks Association Conference's Festival of the Year in the 1-4 Year Category. 
With both dances, Watts is grateful for the Parks being able to put it on and the community's support. He also appreciates the volunteers who are helping with the dances, including the Benton Mayor's Youth Advisory Council. 
Tickets to the Father-Daughter Dance are $30 per couple and $7 for each additional girl. They can be purchased by following the link on the event page on Facebook, calling the River Center at 501-776-5970. 
No tickets will be sold at the door. 
There are still a limited number of tickets available for the Mother-Son Superhero Dance, which will be 6 to 8 p.m. Friday at the River Center. 
Watts encourages parents to bring their children to either dance and have a fun night of bonding.