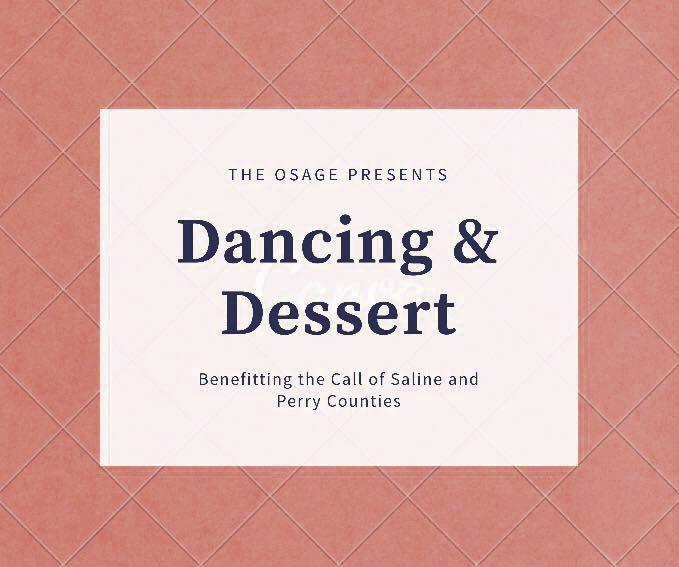 The Osage will hold Dancing and Dessert to benefit The Call of Saline and Perry Counties from 7 to 10 p.m. Feb. 15 at 1110 Ferguson Drive in Benton. 
Co-owner of The Osage and Event Coordinator Fran Nichols said she spoke with The Call and learned about the organization's need for gift cards. When families get a call that they are getting a foster placement, they need to be able to quickly get food, hygiene items and other supplies for the children coming into their home. Gift cards help those families get what they need. 
A percent of the proceeds from the dance will go to fund gift cards. The Osage will also be collecting gift cards from attendees. Anyone who can't attend can still bring by cards while the center is open. 
The Call's mission is "to educate, equip and encourage the Christian community to provide a future and a hope to children in foster care in Arkansas."
Nichols said the dance will be an extension of the Valentine's Day holiday. 
This will be the first time The Osage will have a live band perform. 
Nash Rambler, which Nichols called "fabulous," performs country music. She said they are a local band. Their music is good for two-step and line dances. 
There will be a dessert bar featuring offerings from Big Red Stores, Pasta J's, Riverside Catering and MK. Bakes. 
Bodiddle's Wine & Spirits will provide beverages. 
The event will be a chance for the community to socialize and enjoy the music. 
The Osage will give out door prizes. Nichols is gathering prizes from local businesses. 
Nichols said the event is geared toward people 18 and older. Dress is casual. 
While there are no plans for dance instructors, Nichols said there is a group of country dancers out of Little Rock who plan to attend and dance. The group has provided instruction at events in the past. 
Tickets for Dancing and Dessert are $15 for an individual or $25 for a couple. They can be purchased by stopping by The Osage between noon and 6 p.m. Monday through Friday. 
The manager's special is a table of eight for $100. Nichols said to contact her at 501-326-7334 for the special. 
To learn more about The Osage and upcoming events, follow The Osage on Facebook or visit www.theosage.com.