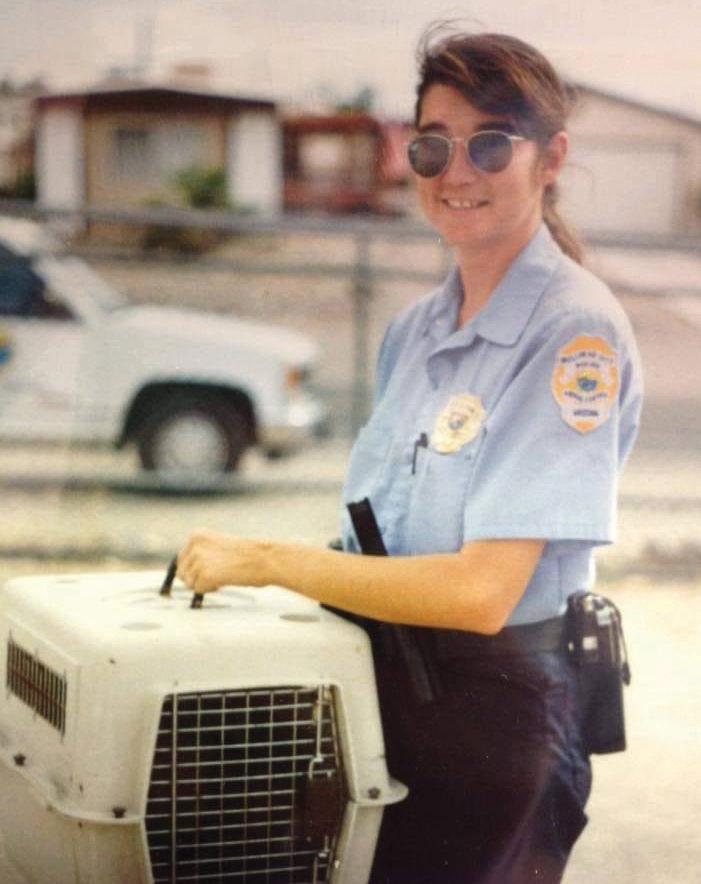 When Director Tricia Power was hired to man the Bryant Animal Control Department in 1999, she made a 20-year plan for the department not thinking that she would  actually still be working in Saline County after two decades. 
Recently, she looked over the list once again. The list that started with 45 items now has only two. 
Despite leaving the Bryant position for about nine months in 2005, Power has worked to grow the department and has even more plans for the future. 
When she was hired in September 1999, Bryant had an animal control ordinance, a truck and badge for her and a contract with the city of Malvern to house animals from Bryant. 
"Mayor Paul Halley looked at me and said 'OK, go do whatever it is you animal control people do,'" Power recalls with a laugh. 
One of the items on Power's to-do list was to open an animal shelter for the city. In 2003, the city converted a warehouse into the city's current shelter. 
In Power's new 10-year plan for the city, she includes a new shelter. 
"This building has been here for 40 years now and it's showing it's age. It's time," she said. 
Through her experience, Power has learned more about disease control in shelters and providing for behavioral needs of animals. 
"We're in the very beginning stages of those plans," Power said. 
She also wants to build a complete disaster plan for the shelter as well as animals in the community. 
From childhood, Power who is an Arizona native, had dreams of being a police officer, but life took another path when she was injured during the police academy. 
"I was going to be a cop, that's what I was going to do," Power said. "Unfortunately, I had a physical agility test coming up while I was in the academy right after the injury. I was not able to complete it (the test,)" she said. 
While she was reevaluating her life, a position became available in the animal control department. She applied for the job with the thought that she would work there until she could try being a police officer again. 
More than 20 years later, she still works in animal control. 
At the time she was hired in Arizona, Power said she did not have any  experience working in a veterinarian's office or other animal control department but she did have  "good instincts when it came to animal behavior," she said. 
Eventually, she moved to Arkansas because of her husband's job. 
She said it feels like just yesterday when she moved from the desert to the Natural State. 
Working as the animal control department director, Power said she does have to deal with some negative and sad situations, but she just focuses on the positive. She calls her job "very fulfilling."  
"I have a lot invested in this place," she said. "This is more than a job for me. There's more to it than me just coming to work everyday. I take pride in what we're doing."
During her time in Bryant, she has expanded the department from just one person to a department with six staff members and a small group of volunteers. 
The department has saved more than 10,500 animals through adoption, returning to original families or transfers to another area. 
"It's so crazy to believe that many animals have come through," Power said. 
Many of the animals weren't the traditional dogs and cats. 
In one two-week period, the department collected five ball pythons, including a 5 to 6-foot long snake that was located in the middle of the road. 
While assisting Bryant police officers, the animal control officers located a Nile monitor lizard, a tree frog, skinks and two dogs at a home.  At approximately 4-feet long, the lizard was so large the department had to borrow an enclosure from the Little Rock Zoo. The animal was eventually adopted by an animal officer in Georgia. 
Along with growing the department, Power and other city employees have also worked to assist pets across the city. The Bryant Bark Park is set to open later this opening. A leash-cutting ceremony is scheduled for 5:30 p.m. Oct. 14. 
Power encourages families to adopt animals from the shelter.
"When you adopt from the shelter, you don't save one life. You save two," Power said. "So if you adopt that animal, now you've saved its life, but no only its life. You've now open up that space for another animal that is out there somewhere."
She gives these tips when considering adoptions. Potential pet owners need to know what their needs are and they are willing to take on, such as training and vet bills. Then they can go looking. 
"You never know what we're going to have here," Power said, adding that nationwide 25 percent of dogs at shelters are purebred.