The wife of a fellow law enforcement officer has started a PayPal account so individuals can make donations to the Bryant officer who was injured during an officer-involved shooting just days before Christmas.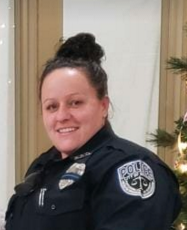 As of press time, $8,679 have been donated to the Samantha Hodgson Recovery Fund over the past two days. 
Bryant officers responded to 1200 Whirlwind St. shortly before 8:30 p.m. Monday. They were responding to the apartment at the Greens at Hurricane to check Austin Chase Swindle's wellbeing based on a report from a concerned family member, according to ASP. 
Swindle, 24, allegedly fired upon officers with a shotgun, shooting through the door of the residence. 
After shooting and injuring Hodgson, Swindle reportedly exited the apartment brandishing the shotgun. Bryant officers said he refused to comply with orders to drop the weapon. When he reportedly pointed the shotgun at police, he was shot and killed, according to ASP. 
During the incident, Hodgson was reportedly hit in the face, shoulder and neck. She was transported via helicopter to a local hospital for treatment, according to information included in the PayPal account.
Hodgson's injures include a fractured skull and detached retina, but she is expected to make a full recovery. 
Hodgson has been a Bryant officer since October 2018. She has served in the U.S. Air Force and is a single mother to her daughter.
An account for donations has also been set up at Relyance Bank at 4937 Arkansas 5 in Bryant. For more information, individuals can contact the bank at 501-847-7982.