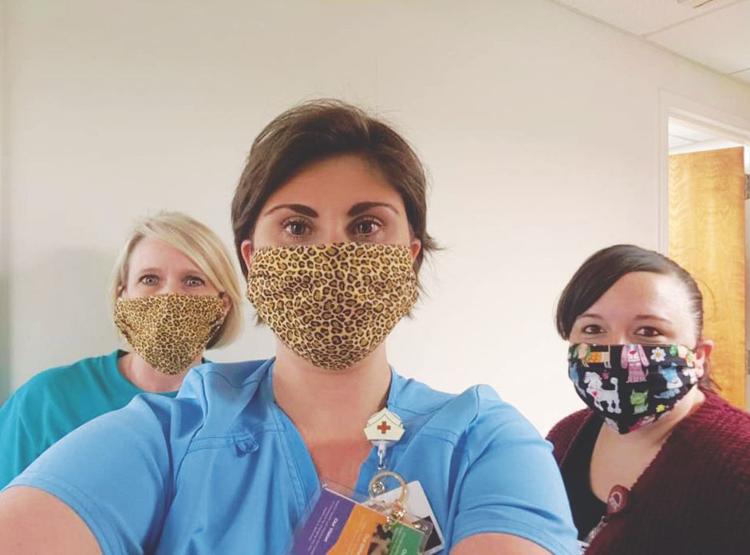 Arkansas Medical Staffing is coordinating a campaign to make 100 percent woven cotton face masks for use by medical professionals in Saline County. 
"We feel we need to provide as much protection as we can to healthcare professionals who are on the front lines," said Arkansas Medical Staffing Owner Sonia Lucas-Meyer.
With the shortage of personal protection equipment, Lucas-Meyer wants to do whatever she can to ensure the safety of health care professionals battling the COVID-19 pandemic. 
Lucas-Meyer commented that the Centers for Disease Control has said healthcare professionals can use homemade masks as a last resort if PPE is not available. 
She added that Governor Asa Hutchinson said in a news conference that the state has received 25 percent of the requested PPE and will not be getting anymore from the federal government. The state will be on its own to ensure supplies. 
When she put out the call to help make masks, the response she got was "overwhelming."
The Saline County Quilters Guild, which has 500 members, and the Saline County Extension Homemakers Clubs both answered the call. 
"We have got an amazing community response of seamstresses," Lucas-Meyer said. 
There are people taking part who haven't sewed in a long time and people who have never sewed before giving it a try. 
From those who can't or don't have the time to sew, Lucas-Meyer has received donations of supplies. For the project, she needs 100 percent woven cotton material and 1/16 or 1/8-inch elastic, which she said is on back order. For the elastic, she said, elastic hair ties and headbands work. Some are making masks that tie instead. 
Some of the masks being made have a pocket for a filter and some don't. She need both types. 
Lucas-Meyer said there are many patterns on the internet and videos on Youtube to learn to make the masks. Anyone wishing to join the campaign can visit the Arkansas Medical Staffing Facebook page to see some of the preferred patterns and videos. 
The campaign is focusing on those who practice in Saline County. She wants to provide masks to every healthcare facility, clinic and hospice in the county. 
She will also give masks to medical professionals who live in the county but work outside of it, but she wants to supply the facilities first. 
There are five curbside locations where supplies and masks can be dropped off. 
Osage Event Center, 1110 Ferguson Drive in Benton, can take masks from 2 to 6 p.m. Monday through Thursday. Lucas-Meyer asks that those planning to drop off at the Oil Shop, 113 N. Market St. in Benton, call 501-722-6442 to make an appointment. The shop is open 10 a.m. to 6 p.m. Tuesday through Friday and 10 a.m. to 4 p.m. Saturday. 
Candles and Creams, 2900 Horizon in Bryant, can take them from 9 a.m. to 1 p.m. Monday through Friday. After 1 p.m., call 501-680-3560.
Lifeline Chiropractic 5920 Arkansas 5 in Bryant, can take them from 8:30 a.m. to noon Monday through Tuesday. 
Arkansas Medical Staffing, 11701 Interstate 30, suite 308 in Little Rock, can take them from 8 a.m. to 2 p.m. Monday through Friday. To drop off, call 501-224-1010 to set up a time. 
Lucas-Meyer said at the moment she estimates she needs 5,000 masks. She expects that number to rise to 15,000 as the available PPE runs out. 
"Our need is going to be great," she said. 
She emphasized the fabric must be 100 percent woven cotton and the thread must also be cotton. 
Lucas-Meyer said the goal is to keep Arkansas healthcare professionals, such as those who use Arkansas Medical Staffing, safe so they can in turn help the community. 
She appreciates all those who are taking part and helping make the masks for healthcare professionals. 
"We could not do this without these businesses opening their doors to be a drop off locations and we definitely could not do it without the the overwhelming response of the Saline County Quilters Guild and all the volunteers."