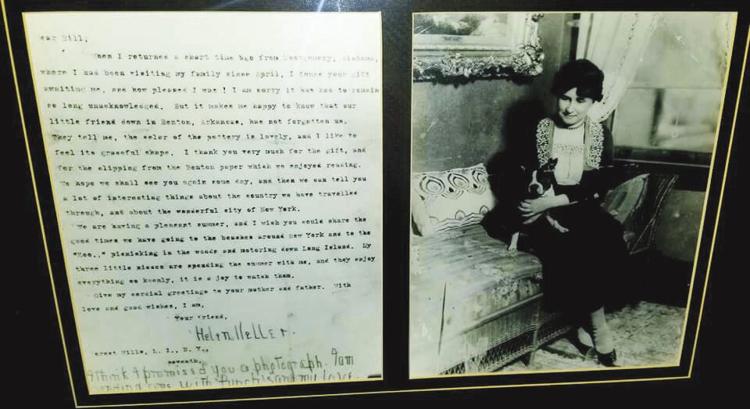 The Gann Museum of Saline County has a photo and letter from Helen Keller, famed speaker, author and activist for the blind and the deaf.
Keller is the subject of the play and film "The Miracle Worker."
She lived from 1880 to 1968.
Museum Director Lindsay Jordan explained Keller stopped in Benton for a week in 1922 on her way to a conference in Texas. Jordan said at that time Benton was a main thoroughfare for those traveling to Texas.
While in Benton, Keller befriended a 10-year-old boy named Bill Stewart. Stewart would bring her sandwiches and gave her a piece of Niloak potery. The pair talked about Keller's dog, Ponch, who is pictured in the photo with Keller.
The letter is one Keller wrote to Stewart after her visit.
Jordan thinks it is great Keller visited and made a friend during her stay.
The main display currently at the museum is "Unearthing Arkansas,"  featuring artifacts found locally by Brandon Sutton, along with other unearthed items from the Gann's collection.
Due to COVID-19, visits to the museum are by appointment only. No more than six can visit at a time. All visitors must wear masks.