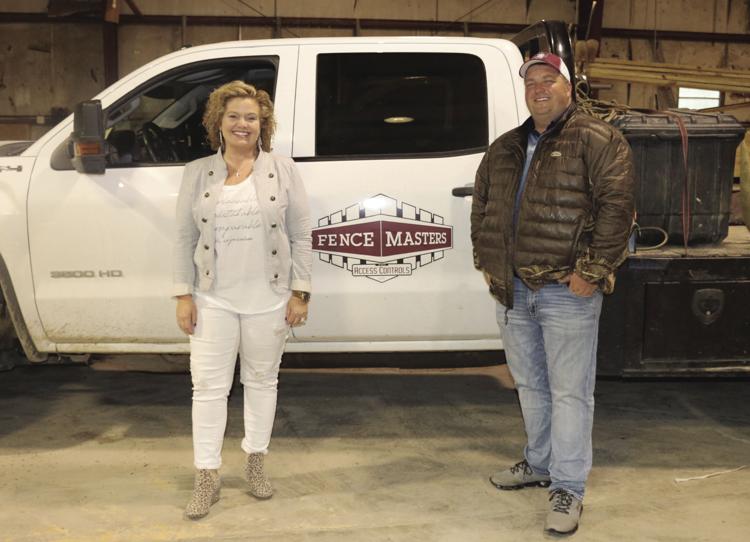 The owners of Fence Masters credit God for even being in the industry and say their faith drives their business. 
Shane and Stephanie Rodgers have owned Fence Masters for five years–first in Bryant and now in Benton. 
"The Lord put me in this business," Shane said.
He started 15 years ago working in the industry as a driver before the owner of the company he was working for saw his potential and made him a salesman. During that time, he was working to learn everything there is to know about fencing. 
Eventually, he knew it was time to start his own business. 
He was blessed with a mentor who worked with him through the first year. The mentor is still someone the couple does business with. 
His employees, who he calls craftsmen, have mostly been with him since the business began. He has four craftsmen plus an office manager, who he and Stephanie agree is a vital member of the crew. 
"(The staff) are the transmission of this driving force," Shane said. "My guys are like my family."
They pray with the crew before they start work each morning. Shane emphasized the guys don't have to pray, but they all want to. 
Shane and Stephanie believe the size of the crew allows them to control quality. 
Shane said members of the crew also gives of their time to help the community, including a member who helped a Boy Scout with his Eagle Scout project and members working to help the Dream Center and feeding the homeless. 
This past year, Fence Masters purchased a grill so they could go into neighborhoods to grill meals to give out for free and pass out Bibles. 
The Rodgers also give back to organizations like Second Chance Youth Ranch, Baptist Youth Homes and The Call of Saline and Perry Counties. 
They see the business as not just building fences, but as building relationships with customers and the community. 
Fence Masters works with both commercial and residential accounts. 
"We can do any fence," Shane said. 
They fabricate access control devises, as well as, fences and gate operators. 
The couple also see themselves as providing security. They had one client who was nervous when she was home alone. They built a fence that eased her mind. 
Fence Masters can create any type of fence a customer wants. 
"If you can show us a picture, we can make it happen," Shane said. 
After a customer contacts Fence Masters, Shane arranges to meet them onsite to walk through the area. He walks the area to see if there are any complications. For example, a customer may want a fence to keep a pet in, but there is a dip in the ground that could still allow the pet out. 
"I try hard to treat every client like my only customer," he said. 
He likes to sit and talk to customers. 
Stephanie said people can't meet Shane and not like him. 
They said most of their work is within or close to Saline County, though they take jobs across the state and out of state. 
Most jobs take about two days to complete, though large jobs can take a week to 10 days. 
Stephanie said one reason people in the area repeatedly use Fence Masters is because it is a proven business. 
"People know Fence Masters is going to stand behind what we do," she said. 
People know the company may not always the cheapest, but they say the customer can be confident of a solid product, and Fence Masters will be there to correct any problem. 
"Even after they have bought the fence, I want them to know I appreciate them," Shane said. 
Fence Masters is open 8 a.m. to 5 p.m. Monday through Friday. To learn more or set up an appointment call, 501-847-3700. They can be found online at www.fencemastersar.com.