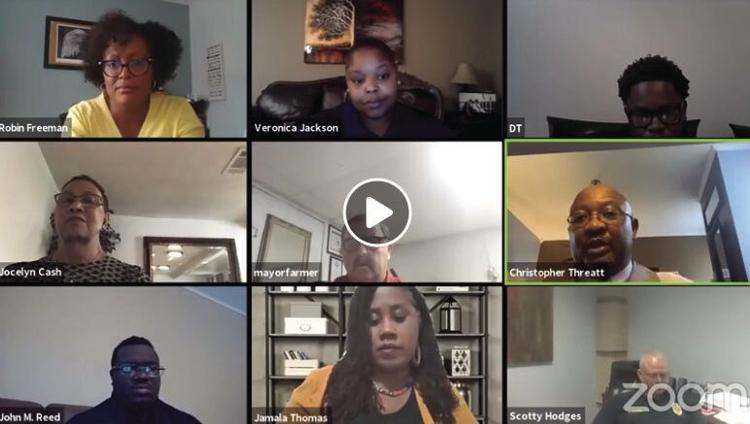 The final Dialogue on Race: Our Beloved Community event will be stream lived on Facebook at 6:30 p.m. Sept. 10, after the original virtual gathering was postponed due to the remnants of Hurricane Laura.
"The purpose of the dialogue is to gain insight and understanding into our own beliefs, and to come to a new understanding of the issue of race," said dialogue facilitator Robin Freeman in a press release.
The guiding question of the panel is "What is your vision for racial justice for our community?"
• Aaron Calvin, former Benton resident.
• Regina Carr, Saline County Administrator for the Benton and Bryant offices of the Arkansas Department of Human Services.
• Honorable Mayor Tom Farmer, city of Benton.
• Keaton Harper, worship pastor, Holland Chapel Baptist Church.
• Honorable Saline County Circuit Judge Robert Herzfeld.
• Taylor Loy, associate pastor, First United Methodist Church of Benton.
• Randy Morris, executive director, Central Arkansas Development Council.
• Oveta Pledger, Ralph Bunche Community Action Committee.
• Terri Todd, president of True Reflections of Sisterhood, an official Interest Group of Alpha Kappa Alpha Sorority Inc.
• Shannon Winston, Ralph Bunche Community organizer.
• Joel Winters, worship pastor, First Baptist Church of Benton.
Freeman, who is director of the University of Arkansas CURRENTS will facilitate the discussion, along with Veronica Jackson, a consultant. The discussion will begin with panelists responding to questions they have previously received. Panelists will join via Zoom.
According to the press release, the dialogues are planned by members of the group "Common Ground Saline County: Peace, Justice and Unity for All," which formed after hosting a peaceful racial justice demonstration June 5. The group also hosted a virtual town hall meeting June 16, along with dialogues focusing on law enforcement and education July 30 and August 13 respectively.
In addition to dialogues, the group plans on hosting small group discussions based on the curriculum "Be the Bridge." The community is invited to sign up for a small group by contacting Janet Dixon at j928dixon@gmail.com or 501-317-6449. The cost for participation is $10 and covers the cost of the book. Other racial healing events will be announced at a later date.
"The Dialogue on Race is a forum designed to draw participants from as many parts of the community as possible to exchange information face-to-face, share personal stories and experiences, honestly express perspectives, clarify viewpoints, and develop solutions to community concerns," the press release said. "The group will submit lessons learned and a list of recommended changes to Mayor Farmer and community leaders once dialogues have concluded."
To participate in the dialogue, the live stream can be viewed on the following Facebook pages:
• Robin Freeman - @robin.freeman.182
• Common Ground Saline County: Peace, Justice and Unity for All - @commongroundsalinecounty
It may also be live streamed on the city of Benton Facebook page, but conformation has not been received as of press time.