After a recent proposed millage rate increase failed in September, Harmony Grove School District officials are going to voters again in January. Monday, as part of the Harmony Grove School Board meeting, Superintendent Heath Bennett and the board spoke with attendees about the proposed millage rate increase. 
With money generated from the proposed increase, as well as $2.6 million in partnership funds from the state, the district hopes to build a 35,000-square-foot addition. 
This addition will include nine classrooms, science labs, a media center, library, principal's office, nurses' station, resource classrooms, band and choir rooms, as well as areas for students who need various forms of therapy.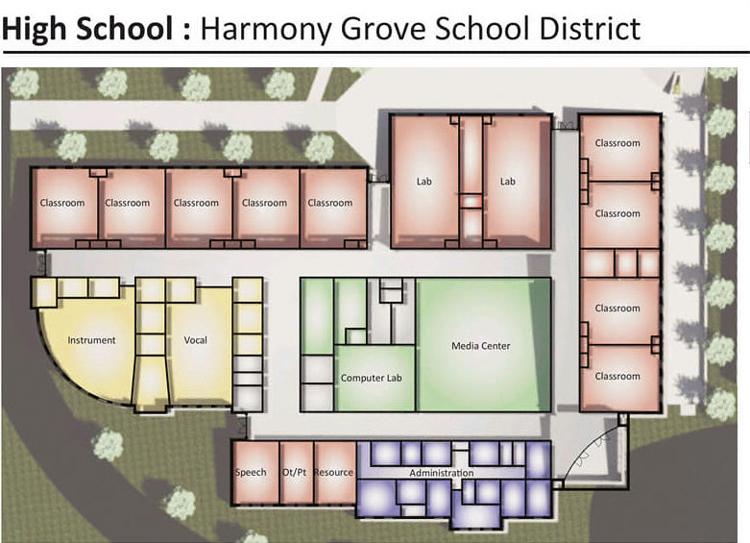 This addition is designed to accommodate an estimated 10 years of growth, Bennett said. 
To make room for the addition, a building that currently houses band and choir rooms and the in-school suspension room will be demolished. As well as the addition, the district plans to make improvements to solve flooding issues and to add security measures including safety doors across the district, Bennett said.
Spurred by a question from the crowd, district officials discussed what would happened if the ballot item failed again. 
"Life will go on. Our babies will show up. We're going to do everything we can to keep them safe. We're going to offer them the absolute best education ... but it may be in portable buildings," Bennett said. 
The district would be responsible for covering the cost of portable buildings. 
Board President Jason Finley told the crowd he would not be in favor of having a third election because of the cost to hold a special election. 
"This is the community's chance to decide," Finley said. 
If the rate increase fails, Finley said the district will continue educating children, but could be close to a facilities distressed situation. 
"If the millage doesn't pass, yes, we can move forward, but it's going to be very, very shaky and it's going to put us close to that distress situation," he said. "It's not that we can't afford to educate anymore. It's just that we're going to get very, very full." 
If the district is deemed "in distress," the state will step in and "tell us how that (facilities improvements) happens," Finley said.   
When the first millage proposal failed, Finley said he wasn't in favor of the going to voters again, but changed his mind after hearing what could happen to the district and learning about financial changes. 
By consolidating debts and taking advantage of lower interest rates, the district is now coming to voters for a smaller rate increase. The rate increase requested is now 2.8 mills instead of 3.8 mills as proposed in September. 
If the increase is approved by voters, the district's millage rate will be 44.60 mills. When asked about why Harmony Grove's millage rate is higher than other Saline County districts, Bennett pointed to the district's smaller assessment. 
In 2018, with the current millage rate, Harmony Grove received $65,787,513. In Bryant, with a millage rate of 40.80, the district received $878,010,601 and in Bauxite, with a millage of 38.60, the district received $86,219,220. 
Finley said discussions about how to handle facilities issues have been in the works for about five years. The original plan was to build a new high school, but the district would have had to ask residents for a much high rate increase. 
In comparison to the $9 million to $9.5 million cost to build an addition, the cost of a new high school would have been $20 million, Bennett said. 
Another talking point during Monday's meeting was school choice. According to Finley, about 1 in 4 students who attend Harmony Grove School District do not live in the district. 
Bennett said the amount of students who want to come to the district is a representation of the good things staff at the district is doing. 
"We have a lot of families that want their babies to go to Harmony Grove. That's the bottom line. Look at our test scores. Look at the things we have going on in our schools. It's a great school. It's a great community," Bennett said. 
Under state law, because of the district's current capacity, officials are not allowed to deny any school choice requests, Bennett said. 
Early voting for the election will begin Jan. 7 with election day set for Jan. 14, according to Bennett. 
More about the proposed rate increase is available on the Harmony Grove School District's Facebook page. 
All meetings are open to the public and attendance is encouraged.