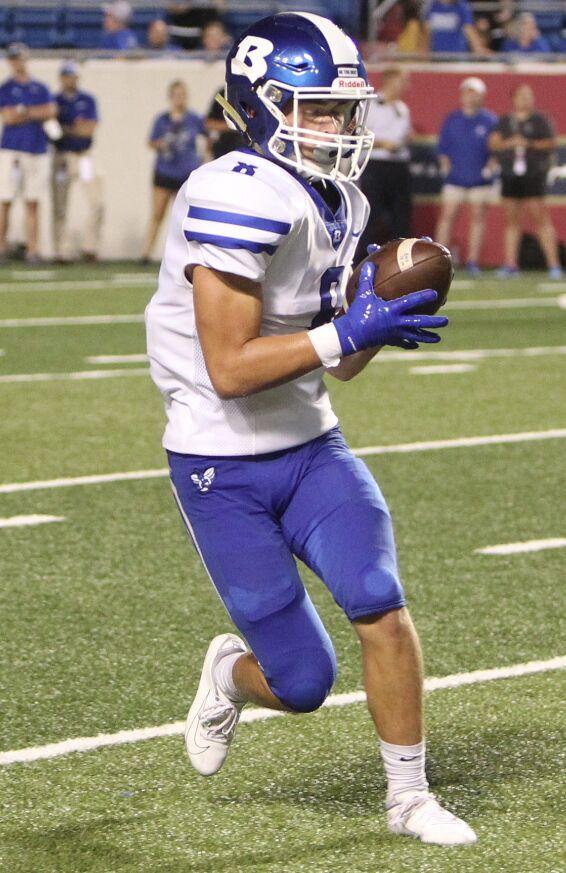 Gov. Asa Hutchinson and the Arkansas Athletic Association announced during the COVID-19 briefing Friday, football players will be able to begin practicing with helmets and not contact next week and volleyball players and cheerleaders will be able to practice.
Guidance for bands and choirs is expected in the middle of the week.
"Part of school are the sports and other curricular activities that go with school," Hutchinson said.
Hutchinson also announced the formation of the a High School Sports Advisory Group to assist the Arkansas Department of Health and advise Hutchinson.
The group will be chaired by Arkansas Surgeon General Dr. Greg Bledsoe. Arkansas Epidemiologist Dr. Jennifer Dillaha will be in the group.
Hutchinson said AAA has presented a schedule to the Arkansas Department of Health for football, volleyball and cheerleading in the fall.
Helmets practice will be all next week. Hutchinson intends for contact practice to begin the following week, but that has not been decided.
Over the three weeks leading up to school starting, Hutchinson said they will learn from the practices.
He emphasized his belief is sports are an important part of the development of youth. He is concerned without sports in the state, students athletes will travel out of state to play, which brings its own risks.
Hutchinson said the ADH will continue to provide safety guidelines.
"My message for the football players for Monday is to grab your helmet and be ready for practice," Hutchinson said. "Then after practice, I want you to grab your mask so that you can protect others you might be around."
He said the risk is in the community not just on the field. He encouraged coaches and trainers to emphasize the importance of masks to the players and for the players to wear masks to set the example for their peers.
Secretary of Education Johnny Key said the Arkansas Department of Education has partnered with AAA to look at the benefits of athletics for students. Those include higher academics, higher self esteem, less likely to get into trouble and higher attendance.
Lance Taylor, with AAA, said this is a challenge for coaches. He wants them to prepare for the season but also realize how important masks are to ensuring there will be a season.
"This is what is going to let us play this year," Taylor said while holding up his mask.
"With your help, we are going to have fall sports."
He would like the season to start on time.
Hutchinson said the state will be looking at best practices to ensure all athletes are safe. He hopes for zero positive cases from athletes.
Acting Secretary of Health Dr. Jose Romero said he received an email from a coach showing an average game of football only has six minutes of actual contact.
Hutchinson said the issue of athletes on the field and people in the stands are two different issues. For the stands, the large venue guidelines would need to be followed and schools would need to submit plans for social distancing.
Hutchinson would encourage shields for helmets, though he is not sure all schools could afford them.
Hutchinson was asked about Confederate monuments. He said debate is the correct process, not destruction, to deal with them.
On the $600 unemployment benefit which ended, he said he is looking at the economic situation and wants unemployment as a safety net, but he feels getting people into jobs is important.
Key said Pre-K will only be in person because Pre-K children need to limit screen time and funding for Pre-K comes from a variety of sources with their own limitations.
New cases of COVID-19 increased by 752 to 42,511 with 6,645 active and 35,413 recovered.
Hospitalizations rose by three to 507. Deaths went up by 11 to 453.
The top counties with new cases are Sebastien with 81, Pulaski with 77, Benton with 51, Washington with 41, Independence with 31, Crittenden and Union with 29, Mississippi with 25, Jefferson with 23, Saline with 21 and Craighead with 20.
Saline County has had 827 cases with 162 active, 661 recovered and four deaths.
Across the country there have been 4,536,240 cases with 1,414,155 recoveries and 152,878 deaths.
Hutchinson was pleased with testing rising to 7,207. For July, there have been 188,478 tests with one more day to report.
Hutchinson holds his briefings at 1:30 p.m. Monday through Friday.