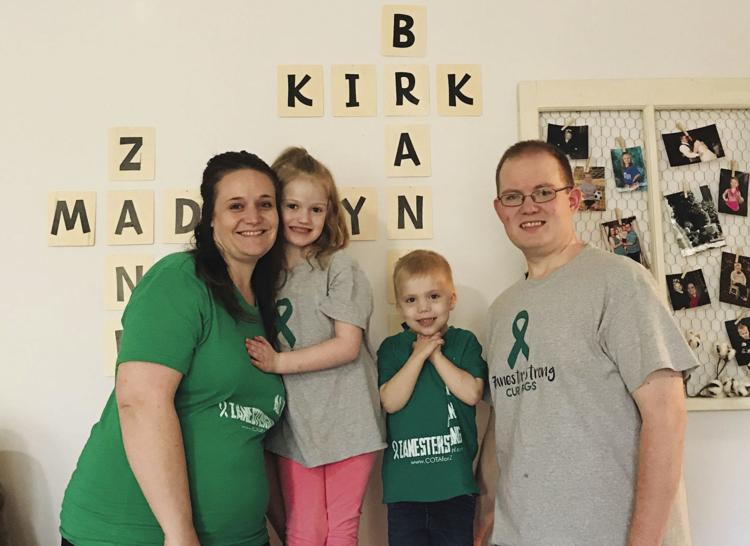 In honor of a local child who will soon receive a kidney from his father, a group of volunteers will host a pancake breakfast from 8 to 11 a.m. Sunday, at Holland Chapel Family Life Center, located at 15523 Interstate 30 in Benton. 
The money will go to Children's Organ Transplant Association in honor of Zane Westbrook, 4. COTA, in turn, uses the money to help Zane and his family with the expenses associated with his transplant. The organization will help Zane for the rest of his life, including assisting with anti-rejection medication and the second transplant he will eventually need. 
"They are a great organization," said Kirk Westbrook, Zane's father who will be donating his kidney. "Their purpose is to help people with the financial burden of a transplant."
He added it is not only the medical costs. The transplant costs include gas to and from the hospital for all his appointments, food and the time Kirk will miss from work while he recovers from the surgery. He called it a "real life savor."
While COTA is for children, it will continue to help Zane as an adult. 
"Once a COTA kid, always a COTA kid," Kirk said. 
Zane suffers from a rare condition known as focal segmental glomeruloscerosis, or FSGS, which causes scaring in the kidneys that eventually leads to the kidney crumbling, Kirk explained. Zane's condition is even more rare than others. He has the NPHS genetic variation of the condition. 
When Zane was 17 months old, Kirk said he suffered from a severe case of croup. Kirk and his wife, Brandy, took Zane to Arkansas Children's Hospital where he was given steroids and stayed for eight days. When they were discharged, they realized Zane was still swollen. 
They took him back to Children's where the doctors realized he had some sort of kidney disease. 
From the time of diagnosis, they knew it was only a matter of time until he needed a transplant. They just did not know how long. The doctors said it could be weeks or years since every case is different. 
"We always knew we were on the path to kidney removal," Kirk said. 
The family believed Kirk would be a match and would be able to provide the kidney. 
In early May 2019, Zane got to the point of kidney failure. His kidneys were removed in October. 
Around the time that Zane was in kidney failure, the family researched the criteria for Kirk to donate. He met all the requirements except for his weight. 
From May 20 to December, he lost 60 pounds. He wanted to be well under the requirement so there would not be any issues. 
In December, he started undergoing tests and appeared before panels of doctors to be cleared for the surgery. 
Later this month, Kirk will have his kidney removed at the University of Arkansas for Medical Sciences in Little Rock. Zane will receive the donation at Children's. Both surgeries will take an estimated five to six hours. 
Kirk said Zane understands more than most people would expect of a 4-year-old. He is excited to eat foods and do activities he could not before. 
Zane will go to the hospital Feb. 24 to begin anti-rejection medications to help accept the kidney the following day. 
Along with Zane, Kirk and Brandy have a daughter, Madelyn, 6. 
Kirk credits God's grace and mercy for keeping them together and giving them friendships along the way. 
He also encourages people, if they want to do something like lose weight, to do it. He joked that it was sad he needed the kidney transplant as motivation to lose weight. 
Kirk said the family's team of COTA volunteers are putting on the breakfast. Andrew and Maegan Tilley are the co-coordinators for the fundraiser. Julie Gunther is running the website. Chris Owen is in charge of public relations. 
Fifty volunteers are scheduled to work shifts throughout the morning. 
The breakfast will include all-you-can-eat pancakes, along with a serving of sausage, juice, milk and coffee — all for $5. 
While there, donors can sign up for $25 for 25, a program to donate $25 monthly for 25 months. 
Shirts will be for sale as well. 
So far, through the website, $3,270 has been raised. They hope to raise $55,000 in Zane's honor. The volunteer group plans to hold other fundraisers. 
Kirk will be serving meals and talking with guests. Brandy plans to bring Zane and Madelyn. How long they stay depends on how Zane feels. 
All donations are tax deductible. All funds will go to COTA. The website to donate is www.cotaforzanew.com.