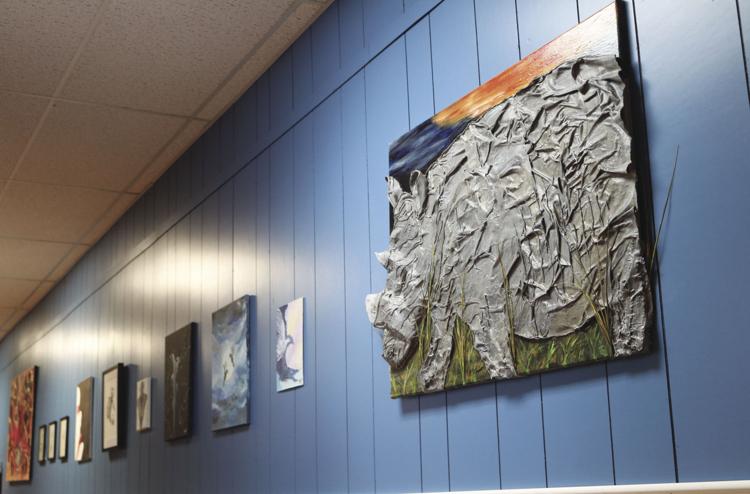 The Amiee Thompson Gallery and Wellness Center will host "Inspi[her]: An exhibition of women artists" through the end of December. 
There will be a reception for the show today from 6 to 8 p.m. at the gallery at 125 1/2 N. Market St. in Benton. 
The art is displayed in the hallway leading up to the space and in the gallery. 
The gallery and wellness center is the brain child of artist Elise LaMaster, president, and therapist Jenna LaMaster, vice president. 
"We want it to be a really inclusive space for women to escape from work and home," Elise said, adding women need to build a support system. 
The two started the organization because they believe women need a space dedicated to them where they can take part in support groups. Currently, it offers anxiety and depression support groups, though others are planned. 
Because groups are led by a licensed therapist, they charge $20. They wanted it to be an affordable low fee so anyone who needs it can afford it. They didn't want to go through insurance because they said not everyone can afford insurance. They don't want it to be limited to only women who can afford it. 
The gallery and wellness center has been around since July. 
It is named for Elise's mother, Amiee Thompson, who struggled with what Elise suspected was fetal alcohol syndrome. She lived in Dorcas House in Little Rock in the 1980s. She was struggling with substance abuse issues and recovering. She died when she was going to work and stepped off a bus and was hit by a police cruiser. 
Elise and Jenna both believe if Thompson would have had a resource like this, it would have helped her. 
Elise believes the lesson from her mother's death is that people need to work on themselves now and not wait because they don't know how much time they have. 
Elise said she travels to larger cities and most have organizations like this so they believed Benton should have one as well. 
Along with the paid options, the organization plans to offer free classes. They want to bring women in from different backgrounds and businesses to speak. If a class is free or not will depend on if a speaker wishes to be paid. 
As an artist herself, Elise feels the gallery is important to the mental health of those they serve. She believes art helps her mental health remain stable. 
It also provides an outlet where women can gather socially and have intelligent discussions. 
It is free to visit and open to anyone, male or female. 
Most of the art is for sale. The gallery takes a small commission off the sales to help cover expenses. 
This exhibition is all local women, Elise said. 
"They feel validated in their craft," she said. 
For some of them, it is their first show. 
The art includes photography, illustration, mixed media, painting and printmaking. 
For those who can't attend the opening reception, the gallery will be available from 10 a.m. to 7 p.m. most days. 
During the reception there will be refreshments and some of the 10 artists with work on display will be on hand to discuss their work. Elise will also be on hand. 
For those who wish to purchase pieces, there will be a directory listing the work, artist, prices and how to contact Elise to make purchases. They can take cash, check, PayPal and Square payments. 
There will be other shows going forward. Elise said calls for work will be open to anyone, male or female, even if they aren't otherwise involved with the organization. The gallery's Facebook page will have information on future events and the calendar of services. 
Along with the show, the organization is collecting items for the Dorcas House, including household items, cleaning items, hygiene items, baby items and more. Elise said there is a real need for hair care products for women of color. 
They encourage the community to check out the show.