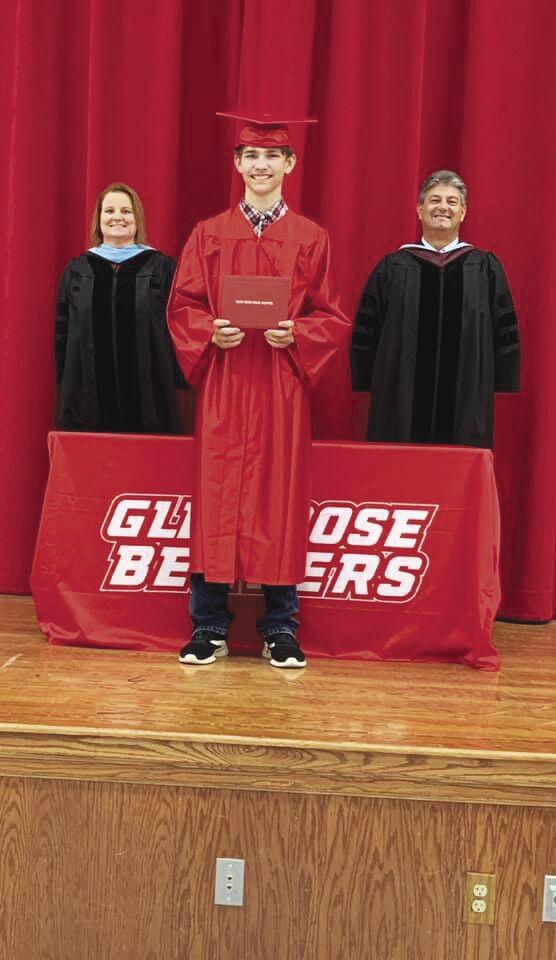 School officials at the Glen Rose School District recently organized a special graduation for a student who will not be able to attend the school's traditional ceremony.
After learning that Johnny Roark, a student who is joining the Army National Guard, would be leaving for bootcamp two days before the ceremony, Principal Susan Blockburger said school officials decided to host a unique ceremony.
"We want to give every one of our seniors the experience of graduation," Blockburger said. "It's what we would have done for any student."
Blockburger calls graduation a "major life event."
A stage was set up in the school's cafeteria and school officials also set up the background that is used for graduation each year.
During the ceremony, Roark's name was called and Superintendent Tim Holicer presented his diploma.
"We want to let Johnny know we're proud of him and thankful to him for his service," Blockburger said.
Johnny Roark, who was born and raised in Glen Rose, said his parents, grandmother and three sisters attended the ceremony.
He noted that he and his family were thankful that school leaders organized the ceremony.  
Roark said he has contemplated the idea of joining the military since he was in ninth grade.
After being in the infantry, he hopes to become a sniper.
When asked about the unusual end to the 2019-20 school year, Roark said he was upset when the schools were closed in March adding that he missed school and spending time with his friends.
Before organizing graduation for the Class of 2020, school leaders said they received feedback from the students, who expressed that they wanted a traditional ceremony.
Graduation is set to take place at 6:30 p.m. July 24, at Bank OZK Arena in Hot Springs.
For the first time, the school's graduation will not take place on the school campus. By hosting the ceremony at the arena, students and guests will be able to social distance, Blockburger said.
Under Arkansas Department of Health guidelines, 6-feet distance must be maintained between people in line, entrances, exits and throughout the arena.
Family groups may sit together, but six feet should be maintained between groups.
Face coverings are required for all people present, except for children under the age of 10. Presenters on stage may be without a face covering if they are 12 feet apart.