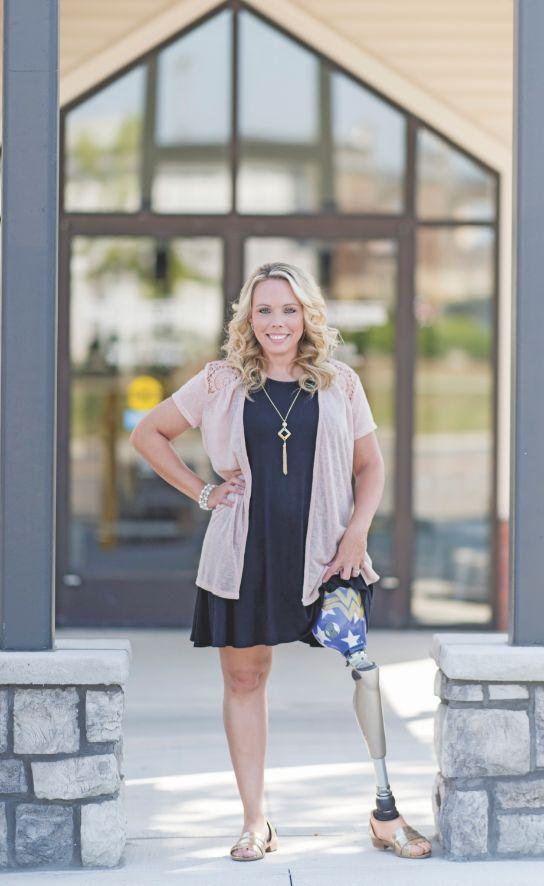 Saline County now has a new group to bring amputees together to support each other as they live their lives. 
Amputees Beyond Life's Expectations meets the third Monday of each month from 11 a.m. to noon in classroom two at Saline Memorial Hospital. 
"ABLE is about getting a group of amputees together to talk about trials and triumphs," said ABLE President Lindsay Hicks. 

The group helps amputees process the mental aspects of having a limb amputated. Hicks, who is herself an amputee, said it helps to work through it with others who have been through amputation themselves. The group is led by amputee ambassadors. 
ABLE's mission is to be "a peer support group formed by an impassioned group of amputees, prosthetists, physicians and physical therapists who make it their goal to provide new amputees with support, knowledge and opportunity to do anything they set their minds to. Together we inspire those faced with limb loss to live beyond their expectations and reach their fullest potential."
"It gives all amputees an opportunity to come together," said volunteer Kristin Stewart. 
Hicks said the group is open to any amputee, no matter which prosthetist they use or what their amputation is. It is also open to supporters and caregivers. 
As the group gets started, members will have an open style meeting, but eventually, they plan to bring in speakers who have overcome obstacles or accomplished goals such as athletic goals. She believes it can help inspire the amputees if they see others like them who have had challenges and overcome them. She said it gives them hope. 
Part of the group will be for the amputees to be able to share their own triumphs with each other. 
The group recently held its first meeting. 
Hicks said one of the benefits of the group will be discussing challenges such as walking up a hill for those who have lost a leg. She explained that a person who has never experienced that may not understand how its different for someone using a prosthetic. 
Going forward, the group will look at holding events such as picnics, lunches and events such as a 5K. Hicks said the point is to get people out of their house. 
They will also hold fundraisers. ABLE is partnering with Benton Parks and Recreation for a run clinic and 5K. The proceeds from the event will go to help ABLE purchase running prosthetics for amputees. 
Hicks said most insurance won't cover running prosthetics, which are different than those used for walking. When she decided to begin running, she had to raise $10,000 for her own prosthetic. She ran her first 5K in July of 2014 after beginning her training in January of that year. 
"I run in my spare time now," she said. 
As an advocate for amputees, Hicks has made it her mission to get other amputees to see what they can do and encourage them to do it. 
She said the main thing she wants amputees to understand is they are not alone. 
If an amputee misses the meetings in Saline County, there are other meetings. 
Other groups meet from 11 a.m. to noon the first Monday of the month at Baptist Rehabilitation Institute in Little Rock, second and fourth Mondays of the month at Springhill Baptist in North Little Rock and 3 to 4 p.m. the third Monday of the month at the North Little Rock Veterans Affairs Hospital. 
The next meeting in Saline County is scheduled for Nov. 18.