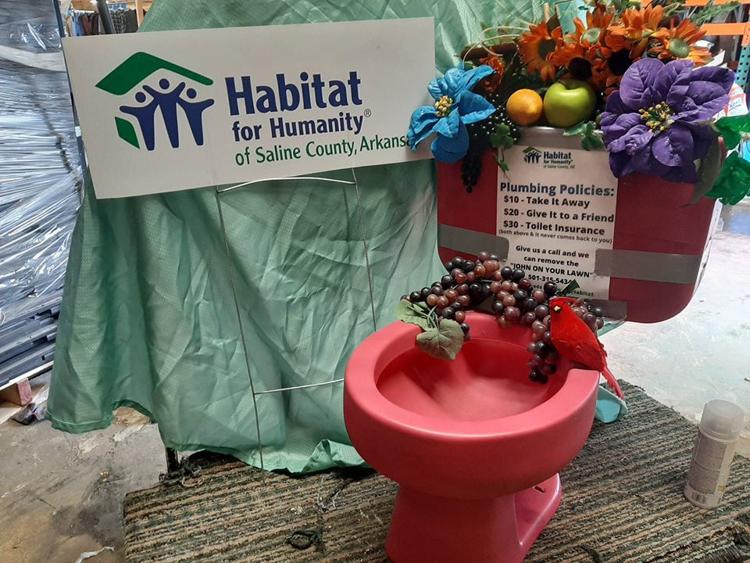 A red toilet has begun popping up on lawns around Saline County.
The "There is a John on My Lawn" fundraiser benefits Habitat for Humanity of Saline County.
"We are still building houses and any donation helps our mission of getting people affordable homes,"  said Development Director Amy Kelly.
Fundraising for the nonprofit organization has taken a hit due to having to postpone events because of COVID-19. Kelly said she has had to get creative to come up with alternative ideas.
She had seen where another organization had done a similar fundraiser and she could get toilet from Habitat's Restore. She cleaned, primed and painted the toilet.
"(It is) a lighthearted way to contribute," Kelly said, adding she didn't want to do anything that required asking for large amounts of money.
She explained the toilet is delivered to a person's yard. To have it removed, they have three options. The first is to pay $10 to have it taken away. The second is to pay $20 to have it moved to a friend's home. The third is to pay $30 for "toilet insurance," meaning the person gets to send it to a friend and insure it won't return to their own yard.
Kelly said she is open to anyone who wants to go ahead and buy the insurance to make sure it doesn't come to them.
She plans to eventually add additional toilets to allow more than one to be going around.
So far, she said, it has been fun and she has gotten positive feedback. Many people have told her they want to send it to their friends.
There is no set end date at this time.
Kelly views continued fundraising as important because Habitat and volunteers are still working on homes. The organization recently dedicated a home and has another dedication planned in July.
Habitat is continuing its 2020 Challenge where individuals or businesses recruit 20 people to give $20 each to Habitat. First Security Bank is the first to complete the challenge and has now challenged Simmons Bank.
It also has its Carpenter Club where participants donate $25 every time a home is dedicated.
"We have loyal donors," Kelly said.
Habitat is offering a Father's Day gift idea. Anyone can donate in their father's name by June 17 and Habitat will send a Father's Day card acknowledgement.
Kelly said Habitat is accepting any donations people want to give.
The Restore, which is a fundraising arm of Habitat, is also accepting donations for its resell shop.
Anyone wishing to make a donation to Habitat or take part in a fundraiser, can call 501-315-5434.