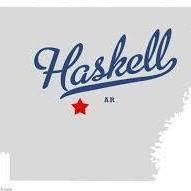 Officials in Haskell are in the process of applying for a grant through the Arkansas Department of Parks and Tourism in hopes of expanding and beautifying the park in the city. 
Two city employees — Jennifer Hill and Nancy Duren — are working together to complete the application process. 
"We all work together here," Hill said. 
Both feel the project will benefit the children in the community and improve an amenity in the city. 
"We're smaller. We can't do the big things like what they (Benton and Bryant) do, but what we can do we're trying to make the best of it," Duren said.  
Proposed improvements include a new playground near the basketball court that was recently built near the Haskell Community Center.
City officials also plan to purchase new picnic tables that include a handicap-accessible table and barbecue grills to go under a pavilion that was recently constructed in the area, as well as new trash cans for the park. 
If the grant application is approved, the city will have to provide funding upfront for improvements and then be reimbursed. City officials plan to use money generated by a sales tax that was approved by voters in 2018. 
Three-quarters of the tax revenue is dedicated to the Haskell Police Department and the final quarter is to be used for parks improvements, Hill said. 
"Mainly, that money was going to be there for grants because most all grants you get are going to be matching grants," Hill said. 
The grant the city is currently applying for is a 50/50 matching grant. The entire cost for the project is about $60,000, so the city would be responsible for $30,000, she added. 
The entire grant process takes about two years. City officials hope to learn by the end of the year if the grant was awarded. Then if it is approved, construction will begin next year. 
Along with the projects associated with this grant, the city is also looking into future projects including the construction of a possible disc golf course and walking trails. 
A developer has expressed interest in donating land to the city for the projects, Hill said. 
"Right now, we're just going grant by grant," Hill said. 
Residents wanting to learn more about proposed improvements or those wanting to share ideas may do so by contacting City Hall at 501-776-2666. Individuals can also send a message to the city's Facebook page. 
"We are always welcome to ideas," Hill said.