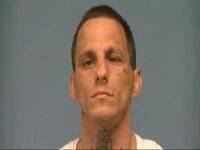 A Hensely man has been arrested for attempted murder after a shooting during a fireworks party on July 4.
According to an arrest report from the Saline County Sheriff's Office, Jacob Lee Wooten, 35, has been charged with class Y felony attempted capital murder, possession of firearms by certain persons, a class B felony, simultaneous possession, a class Y felony, fleeing, a class C misdemeanor and terroristic threatening, a class C misdemeanor.
Deputies were dispatched to a shooting at 1200 W. Woodson Lateral where they found a white male victim shot in the chest. Witnesses identified Wooten as the shooter.
Wooten allegedly showed up at the party with a handgun where he fought the victim in the woods, firing the weapon and hitting the victim in the chest. The dispute between the two men allegedly stemmed from Wooten being angry over a domestic issue involving his estranged wife. After the shooting, Wooten also allegedly called his wife and told her that she was "dead."
Wooten fled from deputies and was located hiding in a tree and arrested. The gun used in the shooting along with a bag of marijuana was also found in the tree.
The victim is reportedly in critical condition.
Wooten remains in custody at the Saline County Detention Center. More charges are pending.