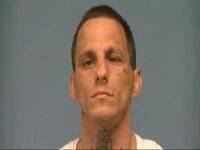 A Hensley man has been charged in relation to a shooting during a July 4 fireworks party.
According to court documents, Jacob Lee Wooten, 35, has been charged with first degree battery, a class B felony, and possession of firearms by certain persons, also a class B felony.
Saline County Sheriff's Deputies were dispatched to a shooting at 1200 W. Woodson Lateral  Rd. and were advised that Wooten had been seen on camera in the area by his estranged wife.
Wooten was then allegedly involved in an altercation with the victim, Robert McBrier, in the nearby woods which resulted in Wooten shooting McBrier and fleeing the scene in a white Chevrolet pickup.
The victim was transported to UAMS for treatment of a full-penetration gun shot wound through the chest.
Wooten was later found hiding in a tree near Enterprise Rd. in Pulaski County by Pulaski County Sheriff's Deputies. Along with Wooten, deputies also recovered the suspected firearm and a black nylon bag on the branches within the tree Wooten had been hiding. The gun was held in place by a branch that had been inserted through the trigger guard. On the ground near the base of the tree, a clear plastic bad containing pills was also recovered.
At the time of his arrest in July, Wooten was initially charged with attempted capital murder, a class Y felony; simultaneous possession, a class Y felony; possession of firearms by certain persons, a class B felony; fleeing, a class C misdemeanor; and terroristic threatening, a class C misdemeanor.
Wooten remains in custody at the Saline County Detention Center on a $750,000 bond.