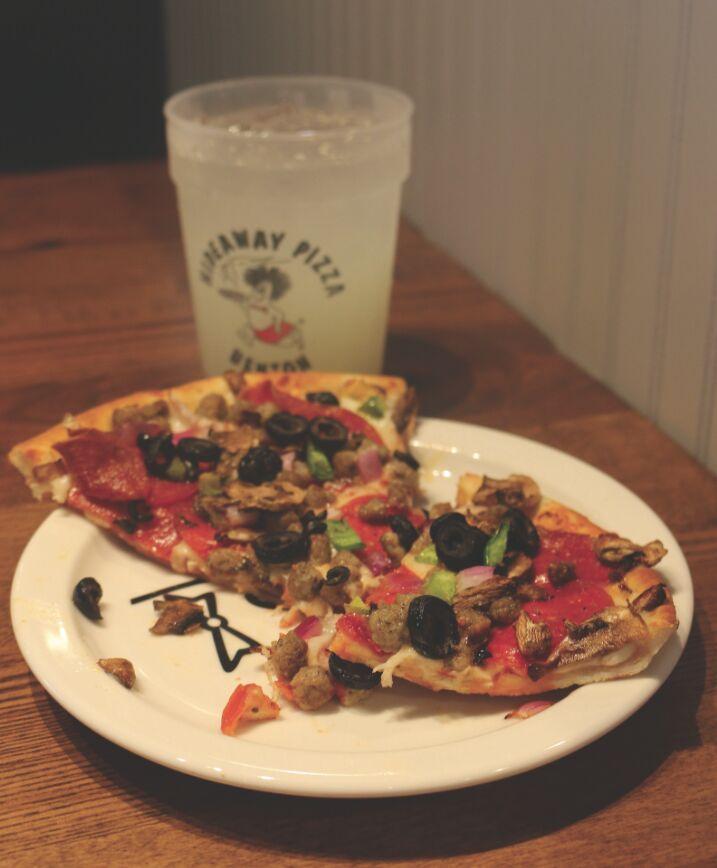 Benton's newest pizza place is Hideaway Pizza in The Shoppes at Benton, boasting a diverse m…
Offering a wide variety of pizza, salads, sandwiches and desserts, Hideaway Pizza opened its 20th location in Benton on Monday in The Shoppes at Benton.
It is the fourth location to open in Arkansas.
"Hideaway is a privately owned, family friendly restaurant that serves a variety of pizzas," said Janie Harris, marketing director, adding that the food focuses on high quality and homemade ingredients.
Diners can choose from one of 19 specialty pizzas or build their own. The specialty pizzas include traditional pizzas, such as the ATW, pepperoni, sausage, green bell peppers, red onions, black olives, mushrooms, and the more unique, such as the Pollinator, olive oil and garlic glaze, spicy capicola, cup 'n' curl pepperoni, banana peppers topped with honey.
There are also vegetarian options.
Harris loves that Hideaway allows customers to get half-and-half pizzas. Diners can choose to have a pizza that is half one type and half another. She said it allows people to try different options they normally wouldn't. It is also good for families who may not agree on the type of pizza they want.
Most of the pizzas are made with Hideaway red sauce.
Those not feeling like pizza can indulge in a salad, sandwich or baked pasta.
While the restaurant offers a few different dessert options, it is known for its Hideaway Sweetza cookies, which are 6-inch cookies made in a pizza pan topped with vanilla ice cream. The options are chocolate chunk or salted caramel crunch.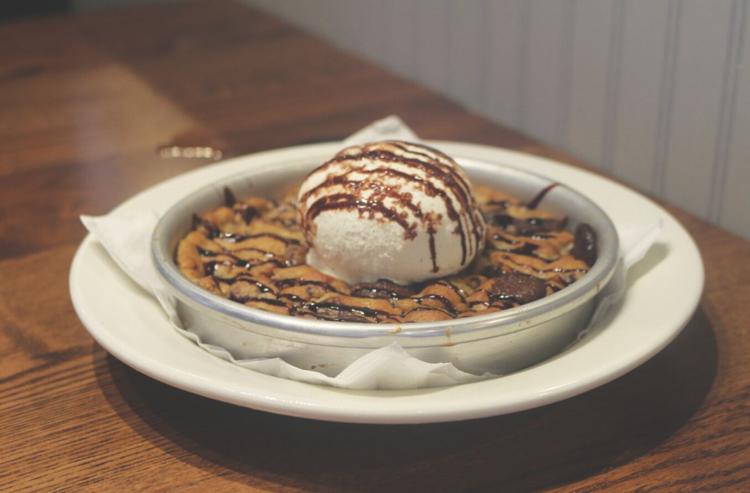 Patrons who order soda, lemonade or tea receive a 22 ounce collector's cup to take home. The design changes throughout the year. Currently, the design is specific to the Benton location.
The new eatery is not only the newest, it is also the largest for the company at 10,034 square feet with 276 seats, including a rooftop dining area where diners can either sit in shade or enjoy the sun.
"At night, the sunset view is beautiful," Harris said, adding it is great for an evening supper.
There is also an enclosed patio with windows that open out so diners can enjoy the patio feel while still having the air conditioning.
There is a full bar where adults can enjoy drinks to go with their meal. Harris said the bar is custom built and beautiful.
The decor of the restaurant is drawn largely from the original store, which was a small location in Stillwater, Oklahoma, where they delivered pizzas using old Volkswagen Beetles.
Harris decorates each new store. She hangs up large, colorful kites in homage to the Hideaway founders, Richard and Marti Dermer, who had a passion for kites. Richard was the president of the American Kite Flyers Association.
Harris said children love seeing all the kites.
Brett Murphy and Darren Lister purchased Hideaway, aside from the original store, from the Dermers in 2006. They grew up in Bartlesville, Oklahoma, where they worked in Murphy's dad's Pizza Hut.
In the year 2000, Hideaway started a collage contest it ran for several years. Now the stores are known for their collages. The first contest winner goes into each new community and creates a unique collage for that location.
When diners first enter the restaurant they can view a large Saline County collage with familiar sites and faces, including the Saline County Courthouse and the staff of the Saline County Library.
Harris said the designs are done to ensure the restaurants are not all the same or too much like any other restaurant.
"Our goal is to make it your favorite place to go," Harris said.
One unique feature throughout the restaurant is the Hideaway mascot, Kahuna, a dough man with a wild head of hair. Harris said he started out as a drawing someone put on the side of one of the Volkswagens. Now he can seen throughout the restaurants — on the cups, shirts and other places. They have even given him a wife and children.
The opening of the Benton location was postponed due to the COVID-19 pandemic. When it hit, next steps were unknown.
For the other locations, Hideaway personnel was able to do carry-out and curbside service. In fact, Arkansas was previously the only place to offer curbside, but the pandemic caused them to add it at all their locations and they discovered their customers love it.
At all their locations, only 50-percent seating is offered to ensure plenty of space to allow social distancing.
Harris said they always focused on cleaning, but are now adding extra cleaning throughout the day.
Each Hideaway district has a sanitizing machine that restaurants use at night. Throughout the day, they do extra cleaning on all high-touch surfaces.
The restaurant does not keep condiments on the table, but makes them available on request. The only thing that is not in paper is the shredded parmesan, which comes in a plastic container and is washed between each customer.
Harris said the main challenge has really been face coverings.
Customers who are not comfortable touching a menu can scan a QR code displayed on the table to receive a digital menu on their mobile device.
Touchless curbside is offered as well.
While reservations are not an option, to keep diners from crowding while waiting to be seated, Hideaway is using the Yelp App, available on IOS and Android, so customers can join the waiting list without having to come into the entrance. Diners can check the wait and join the list all from the app. When the app lets them know the table is ready, they come in and are seated.
Harris is excited for the Christmas season. Each year they choose a different artist to take Kahuna and put him in a scene from a classic Christmas movie. They have done "A Christmas Story" and "Christmas Vacation" in past years. The image will be on cups, shirts and pizza boxes. Information about the artist will go on the side of the pizza boxes as well.
They also hide an Elf on the Shelf around the restaurant for children to find. If they do, they receive an ornament. If they hang it on their tree, take a picture and post it to social media tagging Hideaway, they are entered to win pizza for a year.
Hideaway is open seven days a week. The hours are 11 a.m. to 9:30 p.m. Sunday through Thursday, and 11 a.m. to 10:30 p.m. Friday and Saturday. It is located at 20260 Interstate 30 in Benton and can be reached at 501-260-7777.