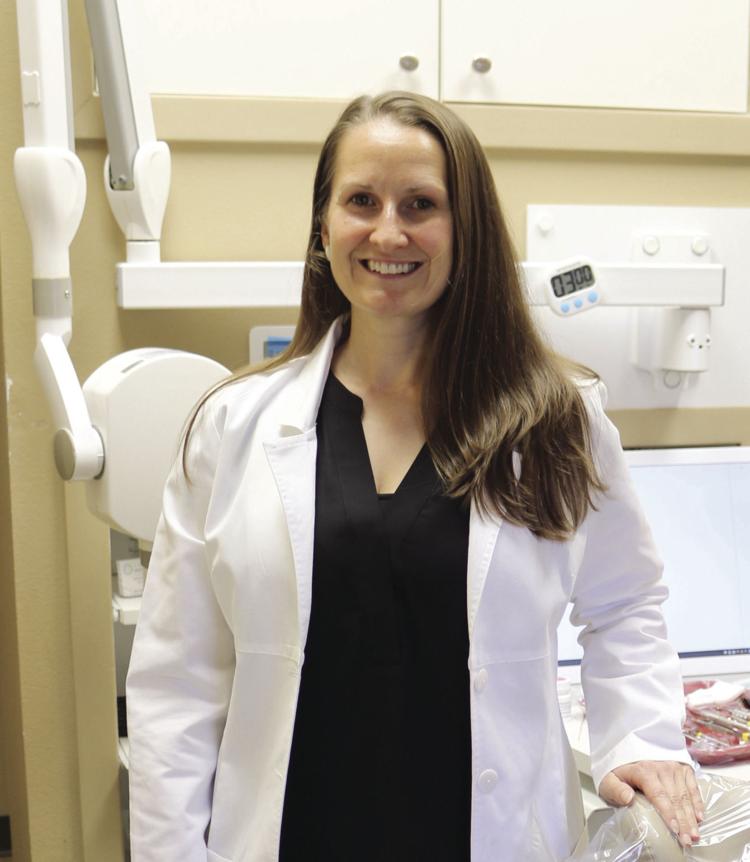 A Benton High School graduate has returned home to practice dentistry in the same location under a new name with a new partner. 
Dr. Brooke Jeffus, DDS, has been the dentist at Benton Dental Center, located at 407 N. Arkansas 5 in Benton, for six months. 
"There is no place like home," Jeffus said. "Benton is my town."
With her love of science and medicine, Jeffus initially wanted to go into medicine. After an externship and encouragement from her hometown dentist, she decided to pursue dentistry instead. 
"Dentistry is a neat mix of science and art," she said. 
With cosmetic dentistry, she gets to work to build up broken teeth working on their shape, color and look. 
She loves that dentistry is a career where she can still spend time with family. 
Jeffus practiced in Benton for seven years in the same location as she is practicing now, but under a different practice. She moved to Conway and purchased a practice. 
She returned home to Benton to be closer to her family and help take care of her mother. 
Jeffus felt now was the perfect time to shift back home. 
She lives on a farm where she has a variety of animals. 
Along with her love of animals, Jeffus is an avid runner, hiker, traveler and loves sports, especially Razorbacks football. She is a member of the Saline County Women's Professional Lions Club. She enjoys Saline County history and collects Niloak pottery. 
She supports the the Boys & Girls Clubs of Saline County and St. Jude Children's Research Hospital. 
She also mentors students in pre-dentistry and helps them prepare for their future careers. 
"It has been a very rewarding thing," she said. 
She also guest lectures at UCA. 
Jeffus is a member of the American Dental Association, the Arkansas State Dental Association and the Central District Dental Association. 
Her undergraduate came from the University of Central Arkansas and her doctorate is from the University of Tennessee. 
Jeffus sees herself as relatable and thinks that helps her patients be more comfortable with her. 
Since being back, she has enjoyed catching up with her old patients and building relationships with the new ones. 
Benton Dental Center offers both general and cosmetic dentistry. It serves patients of all ages from children to adults. 
With her child patients, she tries to make them laugh and put them at ease so they forget they are seeing a dentist. 
She and her staff are committed to providing the best service possible for their patients.
"(They) are not just a number, (they) are an important part of our dental family," Jeffus said. 
The practice has two hygienists, two assistants and two receptionists, who Jeffus said are fantastic, experienced and focused on caring for all patients. 
The office features 10 operatories, each with TVs to help the patients get their mind off the procedures. They use all digital X-rays. 
Jeffus is able to offer a lifetime whitening program and an in-house savings plan for her patients.
She accepts most insurances as well. 
The practice is part of Arkansas Dental Centers and in partnership with Dr. Chad Matone. The Arkansas Dental Centers website describes it as a family owned network of offices. There are 14 locations across the state. All are run by doctors. 
Benton Dental Center is open from 8 a.m. to 5 p.m. Monday through Thursday. It can be reached at 501-315-1512.