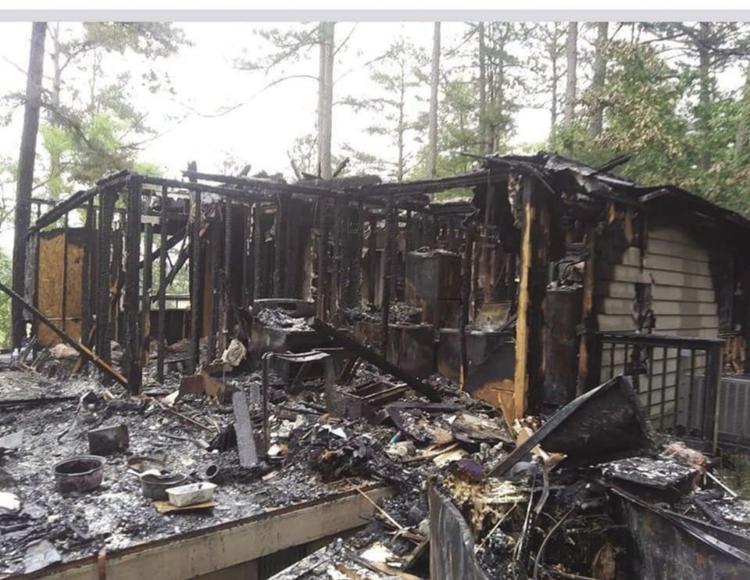 One of the Saline Courier's recently featured hometown heroes lost his home to a fire and the community is rallying around to give back the support he has given to many others.
Terrance Hawkins woke up at 2 a.m. May 11. He had been sleeping on the couch and was headed to his room when he decided to open a door he normally doesn't.
"Something told me to open the door," he said.
He got his wife, Danna, and their four children out of the house before attempting to fight the flames.
While the home was a total loss, the Hawkins family all made it out safely.
"That is the blessing," Hawkins said.
Immediately, the community wanted to help beginning that very morning.
"Everybody has been so great," he said.
As someone who strives to help others, Hawkins said it meant the world that others wanted to help him.
Hawkins has been working hard in his role as dietary supervisor for Birch Tree Communities Benton, especially since the start of the COVID-19 pandemic, to ensure Birch's vulnerable population is fed even when they are not at one of the facilities. He has gone from serving 65 breakfasts and 100 lunches daily to more than 300 meals a day, which he also helps deliver.
Hawkins said even with the fire, he is still cooking and ensuring those meals get out.
His family is currently living with his in-laws while they figure out where to go next.
Friends of Hawkins set up the Terrance Hawkins House Fire Disaster Recovery Fund to raise money to help. Friend Chris Owen said within hours it had hit its $2,000 goal. He keeps having to raise it by $500 and the goal keeps getting hit. As of press time, it sits at $6,020 with a goal of $6,500. Anyone wishing to help the family can visit the Facebook page to contribute or send money via Cash App to $MrsHawkins12.
Owens would like to see the fundraiser eventually get $10,000 to help the family as they have to start fresh.
"It is amazing how many people have helped out," Hawkins said.
People have also been donating clothing to the family.
Along with funds, Hawkins said the biggest need is prayer. The family is still overwhelmed by the fire.
The youngest two children, Hawkins said, do not seem to realize what is going on. The 8-year-old is struggling.
"She is just shook up," he said, adding she understands she has lost everything.
Hawkins added that even looking at donations causes her to struggle with the memories of the fire.
Owen describes Hawkins as one of the nicest people he has ever met in his life. He said Hawkins always has a smile and a laugh.
As a co-worker, Owen sees how much Hawkins loves the members at Birch.
He added that Hawkins is also a great pianist and singer, plus a good dad and all-around good guy.
"He has helped so many people," Owen said. "He is getting it back now."