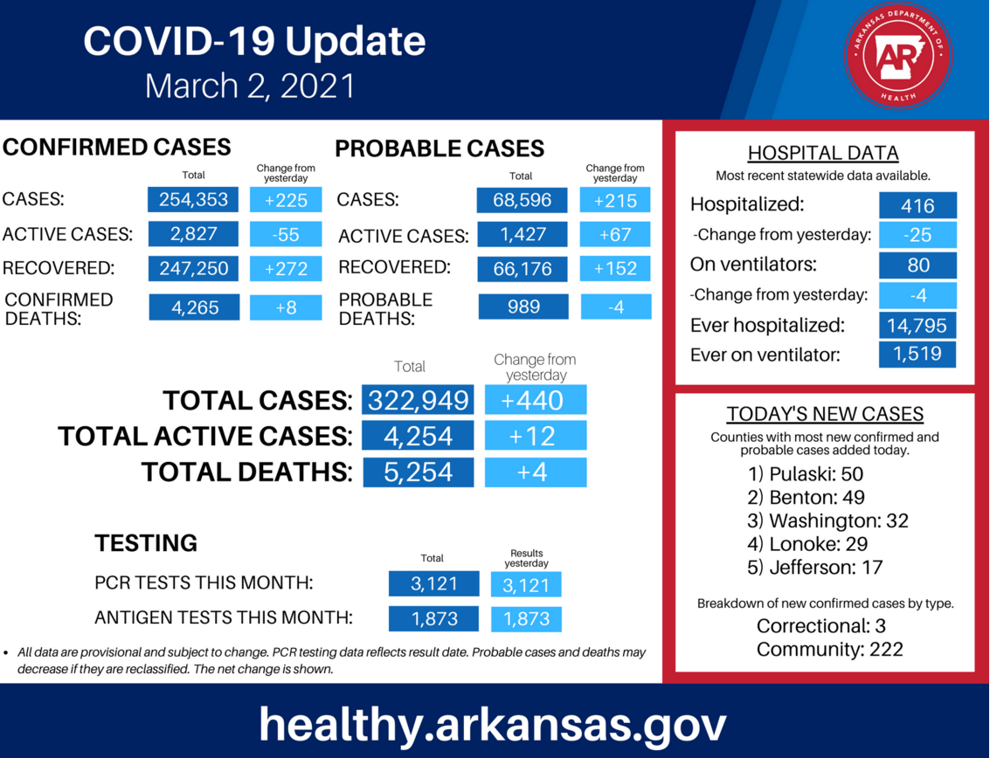 Gov. Asa Hutchinson reported during his weekly briefing the state has had 225 new confirmed cases of COVID-19 as of Tuesday, bringing the confirmed total to 254,353. Active confirmed cases went down by 55 to 2,827 with 247,250 recoveries.
Probable cases increased by 215 to 68,596 with 1,427 active and 66,176 recoveries.
Confirmed deaths rose by eight to 4,265. After cleaning up numbers over the weekend, the number of probable deaths was reduced by four to 989.
Hospitalizations continued their decrease with 25 less bring the current number to 416 with 80 on ventilators.
The state received results for 3,121 PCR tests and 1,873 antigen tests.
The counties with the most new cases are Pulaski with 50, Benton with 49, Washington with 32, Lonoke with 29 and Jefferson with 17.
Saline County has had 11,441 cumulative cases — 8,498 confirmed and 2,943 probable. Active cases are at 115 — 63 confirmed and 52 probable. There have been 11,170 recoveries — 8,302 confirmed and 2,868 probable. The county has had 154 deaths — 131 confirmed and 23 probable.
Nationally, there have been 28,703,016 cases with 515,899 deaths.
Hutchinson said he is pleased to see the number of new deaths less than previous weeks. He added testing is modest.
The full story on Hutchinson's briefing will be in Wednesday's edition of The Saline Courier.