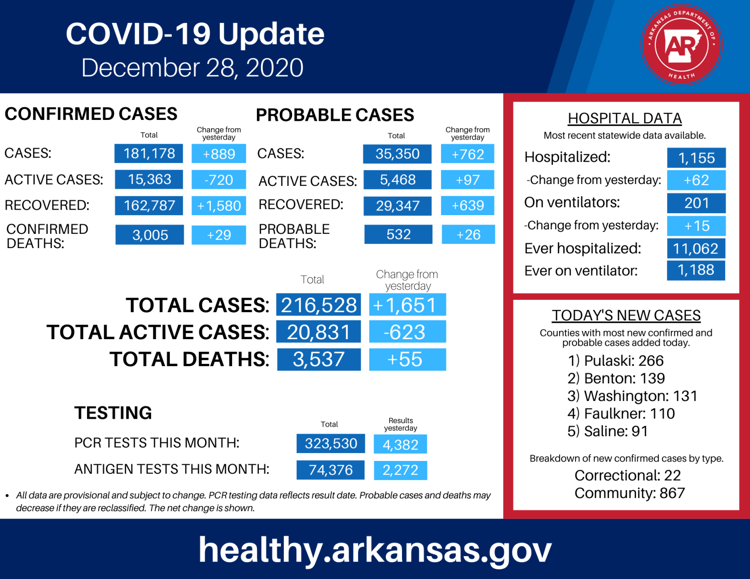 The Arkansas Department of Health reported 889 new confirmed cases of COVID-19 for a cumulative confirmed total of 181,178 with 15,363 confirmed active and 162,787 recovered.
Probable cases rose by 762 to 35,350 with 5,468 probable active and 29,347 recoveries.
Confirmed deaths increased by 29 to 3,005 and probable deaths went up by 26 to 532.
Hospitalization rose by 62 to 1,155 with 201 on ventilators.
The state received results for 4,382 PRC tests and 2,272 antigen tests.
The counties with the most new cases are Pulaski with 266, Benton with 139, Washington with 131, Faulkner with 110 and Saline with 91.
Saline County has had 7,277 total cases — 5,776 confirmed and 1,501 probable. Active cases are at 717 — 540 confirmed and 177 probable. There have been 6,465 recoveries — 5,152 confirmed and 1,313 probable. Deaths are up to 94 in the county — 83 confirmed and 11 probable.
Across the country, there have been 19,248,978 cases with 334,361 deaths.
"It will take a few days to know whether the increase in hospitalizations is the result of buildup after the long Christmas weekend," Gov. Asa Hutchinson said in the release. "Regardless, the high number of cases continues to strain our health care system. Regretfully, we also have an additional 55 deaths in Arkansas from COVID-19. The importance of following guidance from the Department of Health cannot be overstated."