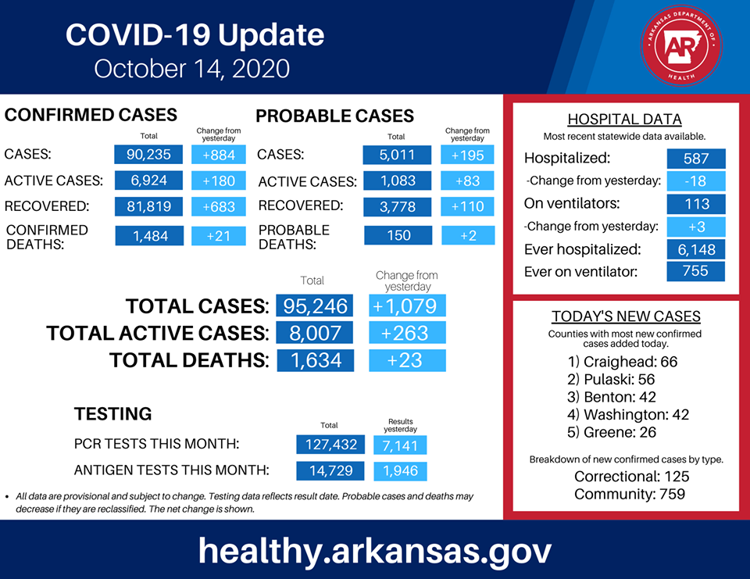 Gov. Asa Hutchinson held a news briefing Wednesday to announce plans for Abbott BinaxNow Rapid Test distribution.
"This is really an opportunity to have a quick response to positive tests," Hutchinson said, adding it also give relief to those who test negative.
Hutchinson said the state has 100,000 Abott BinaxNow rapid antigen tests in hand and expects to receive and additional 50,000 tests each week.
Those are on top of the BD Veritor antigen tests the Arkansas Department of Health has in local health units.
Long-term care facilities also have their own supply of tests.
Hutchinson outlined the distribution priorities for the tests.
He said the top priority will always be healthcare workers, but they tend to have access to PCR tests. The antigen tests will be used for them as needed.
The state will distribute 20 percent of tests to the Department of Corrections, 20 percent to Department of Human Services Human Development Centers, 55 percent to K through 12th-grade schools and 5 percent to healthcare workers and other populations.
At ADH health units, election workers will be a high priority for antigen tests.
He said all tests must be filed electronically with ADH.
Secretary of Education Johnny Key discussed how the Department of Education would distribute its portion of the tests.
The department plans to identify red zone districts, those with a history of on-site modification, those with high case numbers and those that look like they may have the potential to become hot spots.
The identified schools will be invited to take part in a webinar to help them prepare. The districts must have at least one person on site who is trained to administer the tests, must file all positive and negative results with ADH, work with ADH for ordering supplies as needed and take part in ongoing training and updates as needed.
The ADE plans to target the districts by Monday and spend two weeks distributing tests and providing training. Nov. 2 is the goal to begin screening.
The tests will be used to screen staff weekly.
Secretary of Corrections Solomon Graves expressed his thanks for the tests. He plans to tests staff at both the division of corrections and the division of community corrections.
He also plans to test medical staff, nonfacility staff who visit facilities and inmates who have forward-facing jobs, such as work release inmates.
Employees will self administer the test. Inmates will be tested by medical staff.
Graves plans to begin a phased rollout of the tests next week.
Melissa Stone, director of the Division of Development Disabilities Services at the DHS, said they are grateful to have the Human Development Centers included. She wants to test 100 percent of the staff. She plans to begin next week.
Regarding a lawsuit challenging his and ADH's authority issue guidance and the declaration of emergency, Hutchinson said he is glad the case was dismissed quickly because it helps proved confidence in the emergency order.
He does think hospitals are able to handle cases, but he does not want to put pressure on them. If needed, he said surge capacity is built into the state's plans.
He added he does not know where the virus is going or how tough the winter will be.
Hutchinson reported the state had 884 new confirmed cases of COVID-19 and 195 new probable cases.
Cumulative confirmed cases are at 90,235 with 6,924 active and 81,819 recovered.
Hospitalizations went down by 18 to 587 with 113 on ventilators.
Deaths rose by 21 to 1,484.
The state received results for 7,481 PCR tests and 1,946 antigen.
For October, the state has received 127,432 PCR test results.
The counties with the most new cases are Craighead with 66, Pulaski with 56, Benton and Washington County with 42, Green with 26, Pope with 25, Garland and Poinsett with 24, Faulkner with 23, Lawrence with 22 and Mississippi with 21.
Saline County has had 2,465 cumulative cases — 2,330 confirmed and 135 probable. Active cases are at 246 — 221 confirmed and 25 probable. There have been 2,194 recoveries — 2,086 confirmed and 108 probable. The county has had 24 deaths — 22 confirmed and two probable.
Across the country, there have been 7,891,674 cases with 3,124,593 recovered and 216,406 deaths.