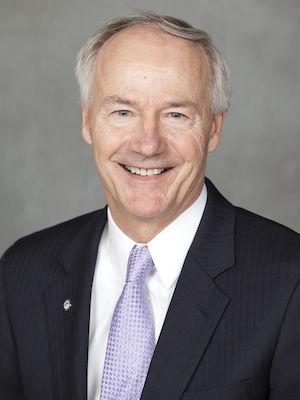 On Tuesday, Gov. Asa Hutchinson began his weekly COVID-19 briefing by discussing the weather across the state.
"What we are seeing in Arkansas is the most severe weather we have ever seen in my lifetime," Hutchinson said. 
Not only is Arkansas affected, but across the region has been hit. 
Hutchinson has extended the National Guard deployment through Friday. There are 100 guards deployed across the state. There are 26 humvees and two ambulance crews to assist emergency personnel. 
At the time of his briefing, there were between 18,000 and 20,000 people without power across the state. 
"Utility workers are working hard to get power restored," he said. 
Hutchinson added that energy conservation is critical during this weather. He expects challenges in the coming days. 
He said due to high demands in Arkansas, Texas and Oklahoma, there is a natural gas shortage. He hopes as temperatures rise the strain on resources will diminish. 
He said the interstates and major roads are good. He praised the work of the Arkansas Department of Transportation. For a more up-to-date report on the roads, he told Arkansans to call or visit iDrive Arkansas. 
Switching to discussing the pandemic, Hutchinson gave the latest report on vaccinations. 
The state program has received 658,000 doses and given 458,431 or 69.7 percent. The federal program, working with CVS and Walgreens, has received 61,000 doses and given 23,080 or 37.8 percent. 
Even with the snow Monday, the state program gave out 3,342 doses. 
"It shows the demand is there," Hutchinson said. 
He said the state is anxious to get as many vaccinated as possible before adding more to the group that can receive their shots. 
New cases of COVID-19 are low, but Hutchinson said that is not significant because testing was low Monday due to the weather. 
The Arkansas Department of Health reported 94 new confirmed cases of COVID-19, bringing the number of confirmed cumulative cases to 248,445. Active cases dropped by 1,027 to 6,423 with 237,766 recovered. 
Probable cases increased by 83 to 65,080 cumulative cases. Probable active case went down by 363 to 2,681. 
Hutchinson was pleased the combined active cases were below 10,000 for the first time in awhile. 
Confirmed deaths rose by 11 to 4,233 and probable deaths went up by one to 1,054. 
Hospitalizations decreased by four to 638 with 110 on ventilators. 
The state received results for 1,490 PCR tests and 742 antigen. 
The counties with the most new cases are Washington with 24, Jefferson with 18, Pulaski with 18, Lonoke with 15 and Benton with 14. 
Saline County has had 11,194 cumulative cases — 8,400 confirmed and 2,794 probable. Active cases are at 398 — 268 confirmed and 130 probable. There have been 10,633 recoveries — 7,994 confirmed and 2,639 probable. The county had had 161 deaths — 136 confirmed and 25 probable. 
Nationally, there have been 27,731,625 cases with 487,495 deaths. 
Hutchinson announced a change to the directive for large indoor and outdoor events. The state will be returning to the previous directive that events with 100 attendees or more will need to have a plan approved by the ADH. The directive had been that events with 10 or more needed approval, but Hutchinson said with the numbers dropping he feels safe going back to the 100 threshold. 
New guidance for small events will be available on the ADH website to help planners keep their events safe. 
Hutchinson believes this change will give smaller events more latitude while providing additional guidance. 
He also announced an updated directive to allow competitions with two or more teams. Plans for sporting events will need to be submitted to ADH by the host venue. 
Hutchinson reported on a call earlier in the day with the White House Coronavirus Task Force he was told the national supply of vaccines for states would increase by 2.5 million. Arkansas can expect an additional 6,000 to 7,000 additional doses a week on top of those the state is already receiving. He said it is the largest increase so far. 
Secretary of Health Dr. Jose Romero said he is still concerned with variants of the virus. So far, none have been found in the state, but he is still expecting them. He encouraged people to continue wearing their masks, practicing social distancing and washing their hands. 
Hutchinson said if those over the age of 70 need assistance getting signed up for vaccinations, they can contact the ADH for help.