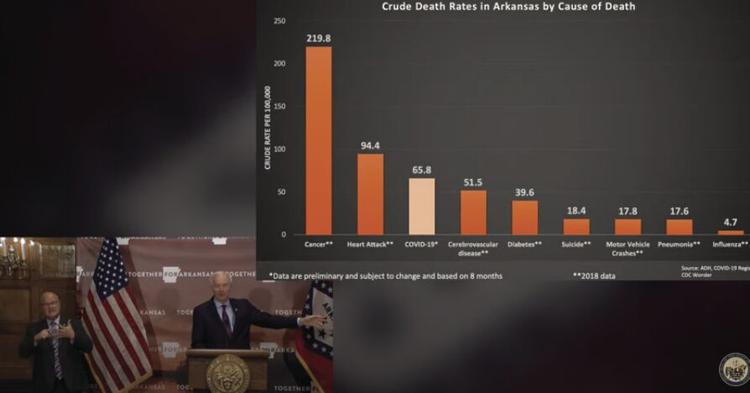 During his weekly COVID-19 briefing, Gov. Asa Hutchinson discussed the winter strategy to combat the virus.
"It will take us all working together to be successful," Hutchinson said.
He said like football, fighting COVID-19 is all about getting the fundamentals right.
He broke the strategy down into two categories.
The first is individual responsibility. He said people need to practice social distancing and avoid crowds. They should wear their masks, reminding people that the state does have a mask mandate in effect. He also encouraged people to get their flu shot to reduce flu cases adding capacity to hospitals.
The second category is support from health officials, schools and the community. That includes testing, contact tracing and quarantining, compliance checks, a marketing campaign and vaccine distribution.
Regarding testing, he said the state continues to seek to test at least the equivalent of six percent of the population each month.
Later in the briefing, Hutchinson said during the month of October, the state received results for 310,293 PCR tests, equivalent to 10 percent of the population. There were results for 40,209 antigen tests.
Discussing the vaccine, he said once the Food and Drug Administration clear the emergency use authorization it will be to states within 24-hours. Secretary of Health Dr. Jose Romero has been working on plans to get the vaccine out. It will go to the high priority populations first, including health care workers.
When asked about contact tracing, Hutchinson said there are enough tracers to meet the state's needs.
New confirmed cases increased by 520 to 105,223 with 7,814 confirmed active and 95,563 recovered.
Hospitalizations decreased by 21 to 667 with 121 on ventilators.
Deaths increased by 16 to 1,833.
New probable cases went up by 358 to 9,296 with 2,022 probable active, 7,103 recoveries and 170 probable deaths.
The state received results for 5,131 PCR tests and 1,279 antigen tests.
The counties with the most new cases are Benton with 96, Washington with 77, Pulaski with 66, Craighead with 38, Sebastian with 37, Saline with 34, Green with 31, Miller and Mississippi both with 24, White with 23 and Crawford with 22.
Saline County has had 3,110 total cases — 2,795 confirmed and 315 probable. Active cases are at 299 — 219 confirmed and 80 probable. There have been 2,774 recoveries — 2,541 confirmed and 233 probable. Deaths are at 36 — 34 confirmed and two probable.
Nationally, there have been 9,358,469 cases with 3,674,981 recoveries and 232,374 deaths.
Bo Ryall, president and CEO of the Arkansas Hospital Association, spoke about hospitalizations.
"It is good to see hospitalizations decreasing," he said.
He said the challenge the state is facing is not capacity, but a shortage of healthcare workers. He said Arkansas is competing for workers with other state. Healthcare workers are facing burnout and their own illnesses. This is causing hospitals to become stretched thin.
Ryall said 10 percent of occupied beds have COVID-19 patients, 26 percent of occupied ICU beds have COVID-19 patients and 31 percent of ventilators are in use by COVID-19 patients.
He encouraged the state to be vigilant against and increase in cases.
Hutchinson shared a slide comparing causes of death in Arkansas that showed COVID-19 as the third leading cause of death in the state behind cancer and heart attacks.
"It is a deadly virus that takes people's lives," Hutchinson said.
ADH Dr. Austin Porter, deputy chief science officer, explained this data is from crude numbers that breaks down deaths based on a percentage of population. The numbers don't take factors such as age into account.
Romero spoke about the risk of transmitting COVID-19 if they take part in gatherings, such a family events for the upcoming holidays.
He said people need to think about the risk of bringing people from out of state or traveling out of state for holidays.
He suggested limiting family gatherings to no more than 10 people and only including immediate family members.
He said many transmissions have been through family gatherings.
Secretary of Education Johnny Key reported that last week, eight school districts had to add modifications. As of the briefing, there were 10 districts with some sort of modification. Since school returned, 185 districts have modified and returned to normal operations.
He said many educators have expressed concerns about engaging with online students. Districts have encouraged students to enroll in Engaging Arkansas, a program to provide support through the Arkansas Department of Education.