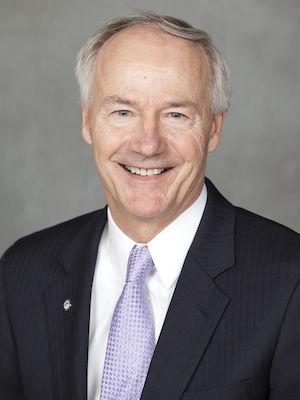 Gov. Asa Hutchinson held his first briefing Tuesday since moving from daily to weekly briefings on COVID-19 and the state's response.
He said the state is trying to find a pattern to new cases. It is seeing the numbers go up, down and back up.
He announced the state has received 12,000 antigen testing kits, which he expects to last the state two months. Now that the state has this supply, he expects the supply chain to continue to supply kits going forward.
Most of the state's 200 BD Veritor point of care testing machines are being distributed across the state to all the Health Units, some rural hospitals and other providers.
Antigen testing will prioritize K through 12 students and college students.
Hutchinson said to its official numbers the state is adding 139 probable deaths. Those will counted separately from confirmed deaths.
Dr. Michael Cima, chief epidemiologist and associate director for science, discussed the what is a probable death. He said the state considers a probable death to be someone who died after only having an antigen test or someone who had COVID-19 lists as a primary or supporting cause of death on their death certificate but had no test.
Hutchinson reported in the 24-hours leading up to the briefing the state has had 767 new cases of COVID-19 bringing the total to 70,125.
Hospitalizations rose by 11 to 289 with 68 people currently on ventilators. Deaths have now topped 1,000 with 1,003 total deaths.
There have been 63,415 recoveries.
The top counties with new cases are Washington with 91, Pulaski with 71, Benton with 49, Sebastian with 47, Jefferson with 23, Garland with 22, Faulkner with 21 and Craighead with 20.
Saline County has had 1,855 total cases —1,802 confirmed and 53 probable. Of those, 143 are active — 136 confirmed and seven probable. There have been 1,694 recovered — 1,649 confirmed and 45 probable. Of the 18 deaths, 17 and confirmed and one is probable.
Across the country, there have been 6,590,827 cases with 2,477,942 recoveries and 195,386 deaths.
More information about today's briefing will be Wednesday's edition of The Saline Courier.