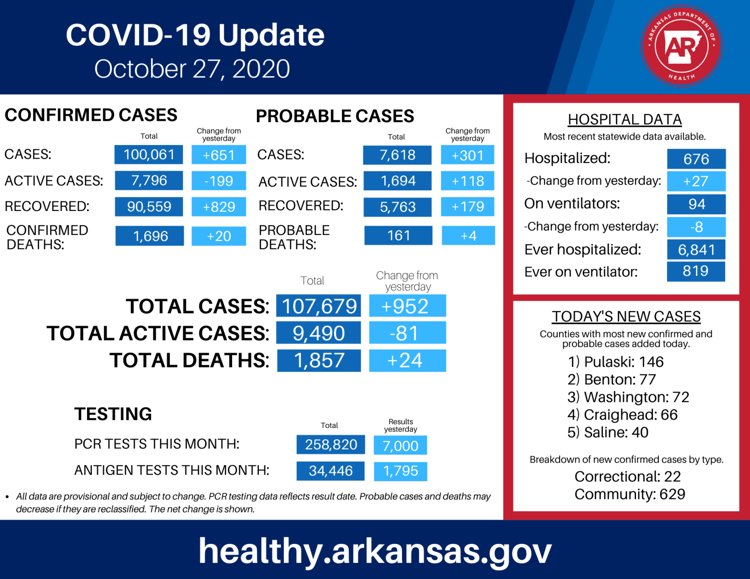 In response to those who see COVID-19 as a losing battle, Gov. Asa Hutchinson said Tuesday he is reminded of the words of Revolutionary War Naval Commander John Paul Jones.
"I have not yet begun to fight," Jones is quoted as saying in response to a British naval commander asking for Jones' surrender.
During his weekly briefing, Hutchinson said while the times are difficult, the state continues to fight. He added the state is at record levels for testing and there are now improved medicines and treatments.
He said those who wear masks, answer the call of contact tracers and follow mandates are making a difference.
He reported the state has had 651 new confirmed cases of COVID-19 since Monday, bringing the cumulative confirmed total past the 100,000 mark to 100,061.
Active confirmed cases are at 7,796 with 90,559 recovered.
Hospitalizations rose by 27 to 676 with 94 on ventilators. Hutchinson said if those numbers do not come down, hospitals may have to reduce elective surgeries.
Deaths went up by 20 to 1,696. Secretary of Health Dr. Jose Romero said 16 of those deaths were in nursing homes.
The state also had 301 new probable cases, bringing the probable total to 7,618 with 1,694 probable active cases, 5,763 recoveries and 161 probable deaths.
Results were received for 7,000 PCR tests and 1,795 antigen tests.
During the month of October, there have been 258,820 PCR tests and 34,446 antigen tests. Hutchinson said by the end of the month he expects a combined test total of 300,000, which is 10 percent of the state's population.
He applauded both health care workers and the Arkansas Department of Health for the work they have done to reach those numbers.
The counties with the most new cases are Pulaski with 146, Benton with 77, Washington with 72, Craighead with 66 and Saline with 40.
Saline County has 2,854 total cases — 2,606 confirmed and 248 probable. There are currently 262 active cases — 198 confirmed and 64 probable. Recoveries are at 2,562 — 2,380 confirmed and 182 probable. There have been 29 deaths — 27 confirmed and two probable.
Nationally, there have been 8,755,581 cases with 3,460,455 recoveries and 226,383 deaths.
Romero is concerned about the number of hospitalizations in the state.
"Hospitalizations have increased and are still increasing," he said.
Romero added that those age 65 and older are at a higher risk for complications and death.
He warned against family gatherings, especially with older family members. He said family gatherings have been a source of many infections. He encouraged people considering holding a family gathering to also consider the number of cases and ages of those involved.
Romero later added that up to 40 percent of those infected have no symptoms, which makes them the most dangerous.
He also discussed plans once a vaccine is in place. He said ADH has identified locations to ship the vaccine.
Hutchinson said he is pleased to see a decrease in cases among K-12 students and college students.
Secretary of Education Johnny Key reported last week districts had the lowest number of modifications with 11. There are currently 17 modifications in place. Since the beginning of the return to school there have been 169 modifications that are now inactive.
Key said the Arkansas Department of Education has identified 14 schools for its rapid testing pilot. Of those, eight have opted in and five has asked to wait or have not responded. The last district told Key they have partnerships for testing and wanted to see the resources used for another district.
Training for the pilot begins Thursday when districts should receive kits.
Key said they are on target to begin screenings Monday.
The second round has identified 20 districts.
Asked about hospital capacity, Romero said most ICU beds are filled by nonCOVID-19 patients. Hutchinson said hospitals have agreements to help one another if capacity issues arise.  
Hutchinson added that controlling the spread of COVID-19 is up to each individual. He believes additional restrictions on businesses will result in more problems.
He clarified there is a penalty for noncompliance with the mask mandate, but law enforcement is to give a warning first. The penalty is a fine, not arrest.
"Our objective is not to arrest. Our objective is to encourage compliance," Hutchinson said.
He also reported he has tested negative and is still practicing social distancing and limiting public engagements.
Regarding Halloween, he encouraged the state to be careful and wear their masks.