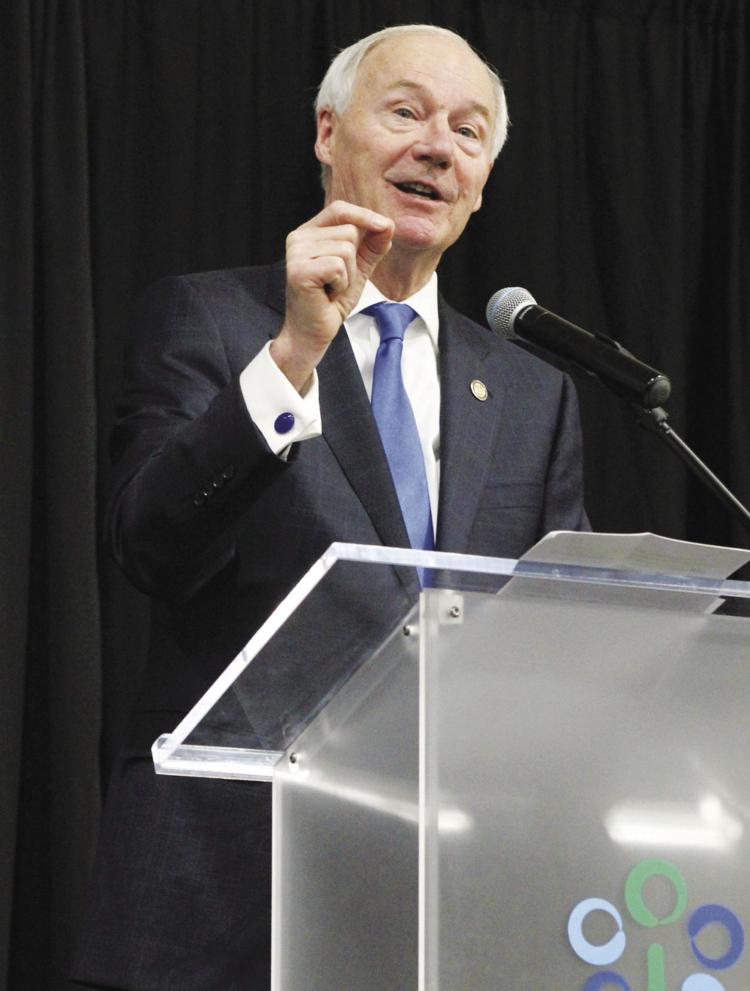 Arkansas Gov. Asa Hutchinson spoke to the Benton Area Chamber of Commerce at the River Center in Benton on Tuesday. 
State Sen. Kim Hammer introduced the governor before he spoke. 
"We notice he has helped win the state recognition," Hammer said.
He went on talk about Hutchinson's success making Arkansas a leader in computer science education, cutting taxes and signing into law an exemption for veterans to state income tax. Under Hutchinson's economic development policy, more than 90,000 more people are working. That represents the state around the world bringing businesses to Arkansas to create jobs, Hammer noted. 
"We have seen success after success of businesses choosing to locate in Arkansas," Hammer said. 
Hutchinson told the crowd he was excited to be in Benton where he knows the leaders work together. He added that the community has great legislative leaders. 
He said it is nice to serve as governor in a state where he can work with the legislature. 
Hutchinson began by commenting on the state of the economy in Saline County. 
"It is strong because the people in this room," Hutchinson said. "Because they understand small business. They understand taking risk. They understand investment and the results are evident in the growing economy here in Saline County."
According to Hutchinson, Saline County is one of the fastest growing in the region and has a 2.6 percent unemployment rate and diversified economy. 
"Hats off to Saline County and the leadership I see in this room," Hutchinson said. 
The Governor also told the audience that Saline County is preparing the workforce for the economy. He congratulated the county on the career and technical education center that is currently under construction and that he would like to see similar centers all over Arkansas. Hutchinson added that he is in favor of similar facilities because students will have the option of collegiate credit or getting the training they need to work in industry. 
He pivoted to talking about the economy of the state and used the Coronavirus to illustrate how economies can be affected and the situations like that is why it is important to have a rainy day fund. 
Hutchinson not only plans to continue to work to bring industries into Arkansas, but he and the legislature are budgeting to ensure they can continue to build a cushion with the longterm reserve fund. 
According to Hutchinson, the state has a 3.6 percent unemployment rating and under his leadership has created more than 100,000 jobs. In 2019, he gave the legislature an ambition pro-growth agenda. 
Legislation was passed to raise teacher's salaries over the next four years. Sixty million dollars was set aside for that purpose. 
Hutchinson is also lowering taxes. Next year, the individual tax rate will go down again to 5.9 percent and he wants to have a tax rate that is competitive with other states. 
Hutchinson has transformed state government by reducing the number of departments that report to him from 42 to 15 and noted that those departments are more organized and efficient. 
The legislature passed a transportation funding bill to put more money into highways and infrastructure. He called that phase two. 
Phase two is to pass Issue 1 to extend the existing half cent sales tax, which currently goes to a bond program. 
"We are asking the voters to not pass a new tax, not create new money, but rather to continue the existing tax that will over the long term allow us to go from a bonding program where we are paying 25 percent of the revenues to interest and bonding fees. It allows us to go to a pay as you go highway system in Arkansas," Hutchinson said. 
Hutchinson said there is a need for highways and construction, plus maintenance. 
"We have to keep up with growth, so I am asking you today to support Issue one on the ballot in November," Hutchinson said. 
If it fails to pass Saline County, loses $1.1 million in revenue for streets. Benton alone will lose $715,000. 
Hutchinson wants to invest more in high speed rural broadband and told the crowd that students need to have the high speed internet they use at school, but many aren't able to do the work they need to at home because of lack of high speed internet access. 
Hutchinson wants to accelerate the deployment of high speed internet in rural areas. 
"For that reason, we have have Arkansas Rural Connect grants I have asked the legislature to fund," Hutchinson said, adding the grants combine state and federal funds to help service providers speed up delivery and deployment of high speed broadband. 
One of the things he sees as his role as governor is to recruit industry. He works to market the state to bring companies in. He said industry in one part of the state can help grow industry in others through contracts. 
Hutchinson said his conservative approach to growing the economy is low taxes and encouraging the private sector to invest and grow. 
"It is also important to remember our neighbors," Hutchinson said. "Those who are struggling, our foster children, those coming out of prison seeking a second chance and the single parents making low wages and struggling to make ends meet. Or it could be that first generation immigrant who is looking for new opportunities in a new land."
Hutchinson called it "conservatism with a caring perspective on life" and that he sees that reflected in Saline County and the state of Arkansas. 
Chamber Board Chair Rick Bellinger ended the lunch by reminding those in attendance about Chamber's Bingo at 6 Thursday and the Chamber's annual banquet set for March 10, both at the Benton Event Center.