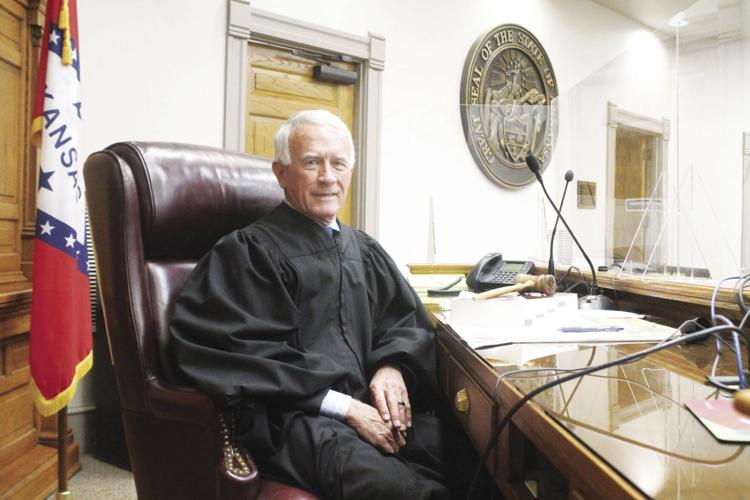 Editor's note: This is the first of a five-part series featuring three incoming and two outgoing circuit and district court judges.
With a new year brings a number of new faces to the Saline County Courthouse.
For the past 30 years, local court hearings have been heard by a Saline County household name — Gary Arnold.
On Friday, Arnold's long tenure comes to an end as he is retiring.
Elected as circuit chancellor judge in 1990, Arnold began what has become a career of helping people.
However, Arnold did not set out to become who he is today upon graduating college.
"I went to school a couple of places before I got my head on straight and realized I needed to study, but ultimately graduated from Henderson State University in 1970," Arnold said.
Arnold did not study law or really anything close to the subject during his time at Henderson. Instead, he earned his degree in chemistry with a minor in mathematics.
"I was really fortunate," Arnold said. "I got a position with Reynolds Metals, which is long since gone. I worked there for nearly 14 years."
It was during his tenure with Reynolds he began earning his law degree, attending classes at night at the University of Arkansas at Little Rock's Bowen School of Law.
"It worked out at just about the time that Reynolds was closing their plant. I was given the opportunity to transfer, but at that time, our daughter was about 7 years old and we decided this is where we wanted her to grow up. I resigned from Reynolds and went into my law practice."
Arnold added that he never had the intention of practicing law.
"The goal when I started night school was in order to advance with the company an advanced degree was always a good idea," Arnold said. "I couldn't get that during the day because I had a family and had to work. The only degree I could get at night was a law degree.
"That is actually how I started in law. I realized that when I started school I liked it, enjoyed it and was pretty good at it. It wasn't a hard decision, once the plant closed, for me to decline the transfer and for us to stay here. I started my own private practice."
Following a six-year career as an attorney, Arnold took a huge leap at the time with his decision to run for prosecuting attorney — a regional position covering three counties at the time.
"It was an open position at the time," Arnold said.
Arnold ran against the late Richard Garrett and won a "hotly-contested race" and began the new post in 1989.
"There were a lot of things going on at that time," Arnold said. "The 'Boys on the Track' was a very high-profile case at the time. The race was very contested for both of us and I was fortunate to win."
Following his victory, the state legislature created 20 new judicial positions, mainly due to juvenile law, opening the path for yet another career leap for Arnold.
"Our district got one of those and it was an open position," Arnold said. "I had just run a highly-contested race. My name was out there a lot and you don't get many chances at a judicial position that is open. I took another big jump — big risk. I really loved being prosecutor. Especially when I was litigating because I was good at it. In my opinion, running a hard race for prosecutor is what helped me to get the judicial position unopposed."
Arnold never had an opponent during his career as judge.
Looking back on his 30-year career, Arnold said he thought at the beginning that he was going to do it as long as he can.
"I knew once I became judge that that is what I wanted to do," Arnold added. "It has been extremely rewarding professionally, financially, but more than anything, personally. I have been blessed."
Having heard thousands of cases throughout his career, Arnold said a few still stick with him all these years later.
One involved a child who was abused and neglected nearly 15 years ago.
"That one I will never forget," he said. "I tell people all the time that I am really fortunate that I can hear cases all day long and have always had the ability to go home at night and not give it another thought. Not that they weren't important to me, but that I made the right decision and moved on.
"But that one case involving the child, still today, wakes me up at night."
However, one that he remembers more than any was during his short term as prosecutor involving a person who was convicted of capital murder resulting in a death sentence.
"Those stick out more than any," Arnold said.
The murder case was appealed and sentence was changed to life in prison, he added.
Despite hearing cases for 30 years, Arnold said the things he will miss the most are the people he has worked with throughout the years.
"When I left Reynolds, I didn't think about it a the time, but knew I was going to miss doing the things I had been doing for 14 years," Arnold said. "But I realized what I really missed were the people. The people that I didn't know anything but their first name and didn't really interact with them other than at the plant.
"When I left, so many of those men and women I have never seen again. That's what is going to happen now. I'm never going to come to the courthouse. There are going to be so many people that I have interacted with that I am not going to see anymore. I am going to miss those people."
Arnold added that he will greatly miss the gratification that he gets from hearing and ruling on cases and helping people.
Going into retirement, Arnold said he has looked back and realized he has worked since he was 11, starting with a paper route.
"I have never been without work," he said. "I am not complaining. I am grateful. Not many people have that."
Arnold said he enjoys golfing and is an avid duck hunter.
"I don't want to go every day or play golf every day," he said. "I like to fish and travel."
Aside from being judge, Arnold has also taught at UA-Little Rock for the past two decades, educating students one night per week.
"I will continue to do that, as long as they allow me," he said. "I enjoy that."
However, one of the most important hobbies to Arnold is flying.
"I have started and stopped flying lessons three times in the last 40 years," Arnold said. "I have really thought about starting and completing that. Since I was in grade school, all I wanted to be was a pilot. When I was in high school, I attempted to join the U.S. Air Force for that purpose. Long story short, my eyes are not good enough so I didn't get to do that. I have always thought I wanted to be a pilot."
Arnold is also very invested in his family with his wife of 50 years, his daughter and two grandchildren.
"They live in northwest Arkansas," he said. "They are growing up way too fast like all grandchildren do, so I will have more time to spend with them. We have a place up on Beaver Lake so that will be a really good opportunity to spend time up there and go to their activities."
Arnold added that he has several assignment cases around the state that he will continue to work. He also added that he indicated to the Administrative Office of the Courts he would like to continue hearing assignments even following retirement.
"I think that will occupy some of my time," Arnold said. "As for specific plans, I am kind of playing it by ear."
Despite being born in Tulsa, Oklahoma, Arnold grew up and graduated high school in Fort Smith.
"I really didn't have my head on straight so I wasted my first year of college," Arnold said. "But I got things together and did better after that. I joined the Army Reserves for six years and then moved to Saline County."
Arnold said he has no plans of leaving the county as he is blessed to have lived here for many years.
Arnold also said he is thankful that Saline County has some of the best people around holding public office and that he will miss working this them.
Attorney Josh Farmer will replace Arnold on Friday after winning his judicial race earlier this year.