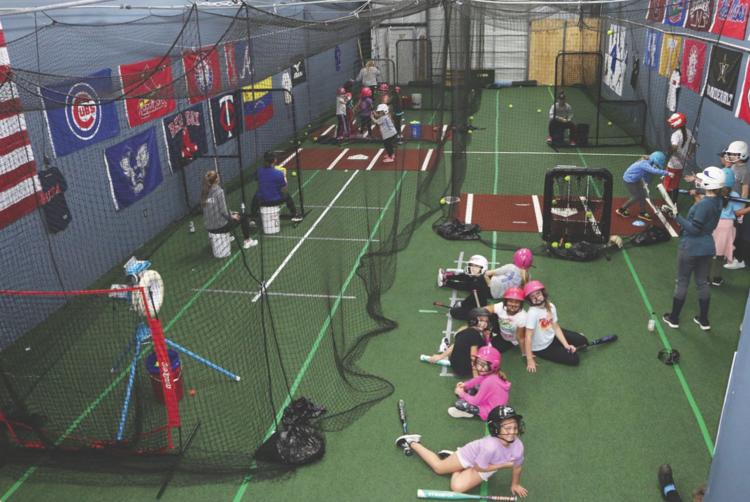 The owner of Hit Stix in Benton wants people to know his facility welcomes softball and baseball players of all levels, from those simply getting into the game, to those who are looking to improve their play. 
"Hit Stix is an indoor hitting facility for all of Saline County," said Winston Southwell, adding it is not only for the top athletes.
Southwell wants everyone who plays to feel welcome at Hit Stix, which has been in Benton for seven months. In that time, Southwell said he has already served more than 1,000 players. 
Hit Stix boasts 3,500-square-feet of batting space. It features three batting cages. Two of the cages are 35 feet. The third cage is 55 feet. 
Southwell played baseball for Faulkner University in Montgomery, Alabama. 
When he was coaching his 6-year-old son's baseball team it rained out so many of his practices he realized there needed to be an indoor place teams or individuals could use. He told his wife, Katrina, he thought he could run a place like that. The family decided to pour some money into it and make it happen. 
It started out as a place people could go to hit. 
At Hit Stix, Southwell, along with the 10 to 12 trainers he works with, can do one-on-one sessions, two-on-one and teams. He offers nightly classes, which are free to members. Nonmembers pay a $10 fee for each class. 
He brings in Madeline Lancaster as Hit Stix director of softball. She has been with him at the facility since it opened. 
The facility charges $12.50 for half an hour to use a batting cage with no machines. To use the facilities machines and equipment is $22.50. 
Southwell has a variety of specialty machines, including a small ball machine for practicing hitting curve balls. 
In the space, there are TVs with cable that Southwell said always shows major games. It also has internet. 
There is a space where players can run agility drills and he can put bleachers so parents can watch their children practice. 
Southwell and his trainers put on camps for different age groups and skill levels. 
Teams can run a practice without the nets or anyone can use the batting cages. 
The facility has air conditioning and heat to keep it comfortable year round. 
"We tried to put everything in it I would have wanted as a kid," Southwell said. 
He tries to get to know everyone who comes in to practice and make the place more personal. 
Hit Stix offers three tiers of packages for those who would like to use the space for a birthday party or other event. 
One of Southwell's core values is that whoever reserves a spot first, gets that spot. He will not bump a nonmember for a member or an individual to make room for a team. 
Instead of coming in and waiting for a cage to get free, players reserve their spots and times in advance. 
Classes each night focus on the fundamentals of fielding and hitting. They last an hour. Each class is based on the participants' skill level. Players must reserve their spots. 
Memberships with Hit Stix are $65 a month. Southwell said if a player attends a few classes a week, the membership pays for itself. 
Customers can also purchase items from snacks and drinks to shirts, bats, batting gloves and jackets. 
Players can bring their own bat and glove or use the equipment at Hit Stix. 
When school is out, based on Benton and Bryant school district schedules, Hit Stix offers day camps from 7 a.m. to 5 p.m. Southwell has one planned for Martin Luther King Jr. Day. The camps are for children ages 6 to 14. 
During the school year, Hit Stix is open from 3 p.m. to 9 p.m. Monday through Friday, 10 a.m. to 9 p.m. Saturday and 2 p.m. to 7 p.m. Sunday. 
During the summer, it is open 10 a.m. to 9 p.m. Monday through Saturday and 2 p.m. to 7 p.m. Sunday. 
It can be reached at 501-218-5115. Hit Stix is located at 3315 Winchester in Benton.