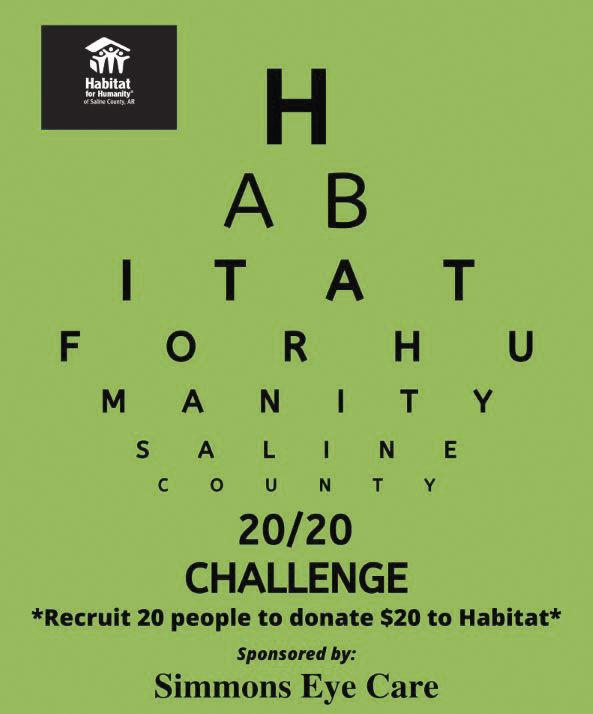 Going into the new year, Habitat for Humanity of Saline County hopes to raise enough funds with its 2020 challenge to be able to fund a home build with the proceeds. 
Development Director Amy Kelly explained the 2020 Challenge, which will be held from January to December next year, as individuals trying to each recruit 20 people to give $20 each to Habitat. 
It would take 3,750 $20 bills to build one Habitat House. 
Kelly said those who choose to take the challenge could give $20 themselves and recruit 19 others or recruit 10 people to give $40 each or any combination they can think of. 
Kelly found the idea while researching what other Habitats have done. Another Habitat had done something similar for its 20th anniversary. 
Simmons Eye Care is serving as the sponsor for this challenge. 
Any Habitat supporter who completes the challenge will receive a T-shirt. Supporters have the entire year to complete the challenge. 
Kelly plans to send out a flyer with the information to its supporters. 
Donors can give their $20 through www.habitatsalinecounty.com. They can indicate which challenger the money is to be credited to. They can also drop off money at Habitat, call 501-315-5434 or give it to the person doing the challenge.
Anyone wanting to take the challenge can contact Habitat to sign up. 
Kelly said so often the community comes together to support Habitat. With the challenge, she hopes to make the fundraising more fun and is a way to get more people involved in supporting Habitat. 
Kelly believes Habitat really has a chance to raise enough through this challenge to build a house. She is looking forward to being able to tell supporters they Habitat has a family for the challenge home.