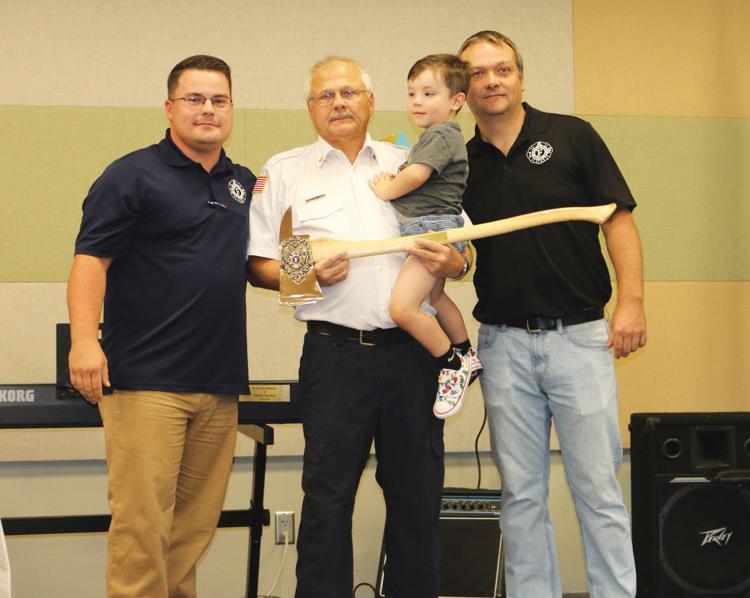 The retirement party for Benton Fire Department Battalion Chief Greg Ford on Thursday at the Benton Senior Activity and Wellness Center was marked with much laughter and some tears. 
"You think this is a retirement party don't you," Assistant Chief Russ Evans asked Ford. "Brother, this is going to end up being a roast."
Evans gave Ford's history with the department. He was hired July 19, 1987, and his promotion to engineer was May 21, 1989. His promotion to captain came March 6, 1994. He became battalion chief May 24, 2011. 
Ford spent six years as the president of the union, local 2765. Evans said Ford was instrumental in union affairs. 
Later in the program, Evans apologized to Ford's wife, Kim, for anything the Ford's two boys learned at the fire station. 
Evans presented Ford with a plaque for his retirement. 
Ford told the crowd that he had a lot of good relationships with people in the department, and he had a lot of good times and bad times. 
"I had a lot of good friends here and that is the way I want to keep it," Ford said. 
His oldest son, Clay, got up to speak about his dad. 
"You could not ask for a better father or grandfather," Clay said. 
He went on to say that his father taught he and his brother many life lessons including to always know where they come from and if something is worth doing, it is worth doing right. 
He told the crowd the department is family to them. 
Captain Bryson Tuttle said Ford was his first captain. The pair often went turkey hunting. 
"One thing Greg taught me is how to survive the fire house," Tuttle said. "I owe you a lot."
Retired Assistant Chief John Wissler asked the crowd how many know they have been pranked by Greg Ford. Most of the hands in the room shot up, with a few firefighters raising both hands. Wissler said others have been pranked by Ford that will never know it. 
He went on to say that within 15 minutes of meeting a rookie, Ford could figure out what would push their buttons. 
Firefighters shared stories about Ford from tricking a rookie about shots to prank calls to drawing on the back of turnout gear with a permanent marker.  
"Greg made it enjoyable," Wissler said.
Retired fire fighter Joey Bannon talked about Ford's work in the union. 
"Back then, he had to fight and claw for every single benefit," he said. 
Finally, Ford's brother, Chief Bill Ford got up to speak. He told the crowd how he talked his brother into taking the test, though it took years for him to do it. Bill said he always thought he would retire before his brother. 
He said he and Greg have always been a tag team.
"We've always tried to outdo each other (in pranks,)" Bill said. 
Many people at the retirement thanked Greg and wished him well in his retirement.