After recently pleading guilty in Saline County Circuit Court, a Benton man was sentenced Tuesday by Judge Grisham Phillips to spend three years in the Arkansas Department of Correction for fleeing and DWI.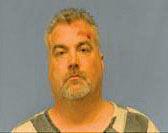 Gary Haynes, 51, was arrested Jan. 6, 2019, after being involved with a pursuit with officers. 
According to Deputy Prosecutor Brian Clary, Bryant Officer Michael Kennedy noticed Haynes' tan vehicle speeding on Interstate 30 near Walmart in Bryant. Kennedy attempted to conduct a traffic stop, but Haynes continued to travel at a high rate of speed, up to more than 100 miles per hour. 
The driver left I-30 at Exit 118 and traveled on the service road before turning onto Arkansas 5. The officer continued to pursue Haynes until he turned into the driveway at his residence. 
During the pursuit, the Bryant officer was assisted by law enforcement from the Benton Police Department and the Saline County Sheriff's Office, Clary added. 
When Kennedy ordered Haynes to exit the vehicle, the driver did not comply and was later tased. Haynes also refused to take a blood alcohol test, Clary said. 
According to Clary, Haynes has had five five prior DWI convictions in the past 15 years, including a felony DWI charge in 2010. Haynes also had been convicted of theft of public benefits in Pulaski County in 2009.
Prosecuting Attorney Chris Walton would like to express his appreciation to Kennedy, as well as, the other law enforcement agencies who assisted during the incident. 
He also stressed that drivers should be prepared to face stiff penalties if they flee law enforcement. 
"Trying to out run the police to cover up for drunk driving is dangerous to law enforcement and drivers on the road. It will not be tolerated," Walton said.