On a warm summer day visiting Downtown Benton, a good way to cool off and relax is to stop in to Just Ice Cream, 115 N. Market, and get frozen treat.
Owners Tia and Jonathan Wind were looking to create the type of place people like to frequent in vacation destinations and bring it to Benton.
"That was our goal," Tia said.
They have created a true family business with them and their children, Bailey and Sam, working to run the ice cream shop.
Just Ice Cream first opened at Main St. Station in Benton April 5, 2019. Tia said they thought that would be plenty of space, but the shop quickly outgrew it. So they relocated to the current location, a historic building that was the home of the Family Shoe Store from the 1940s to the '70s.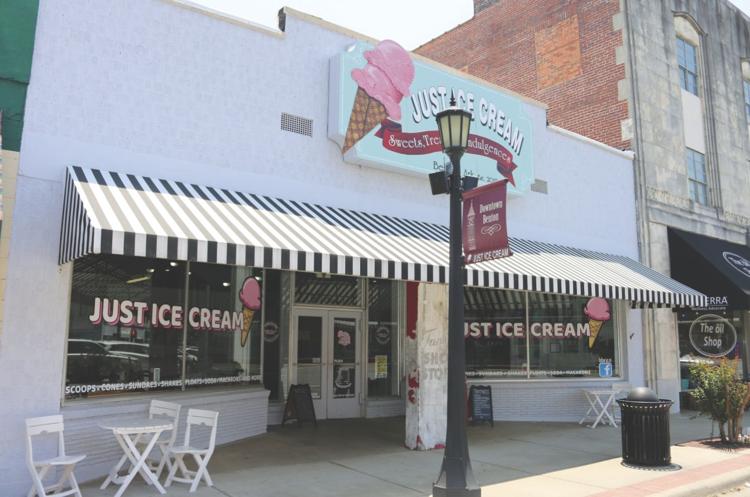 In January, the ice cream shop remodeled to make the space more their style.
Tia believes the shop is in a great place at a great time with the current resurgence of Benton's downtown area. She said places like Vahalla, Baja Grill, Stated Apparel, This Lil' Piggy and SOCO are really helping to bring the area back to popularity. She said people stop by her shop after grabbing dinner or while they are shopping.
She feels like the area is really growing and the downtown businesses are sharing crowds and helping each other.
"People are coming for more than the DMV," she said.
The idea for the shop came from the Wind family's annual trip to the beach. They wanted ice cream and couldn't find a shop anywhere near the beach. They joked they would retire down there and open a shop. Jonathan wanted to call it Just Ice Cream. In fall of 2019, they started talking about opening a business.
After one of Benton Mayor Tom Farmer's town hall meetings, the Winds started talking to Damon Helton who said he has a spot that would work for them at Main St. Station.
Tia said they went from no idea exactly what they wanted to do to a location and a plan in 20 minutes.
When they outgrew Main St. Station, Helton rented them the current spot.
With the success the shop has seen, Tia plans to add one to two employees in the next three to six months.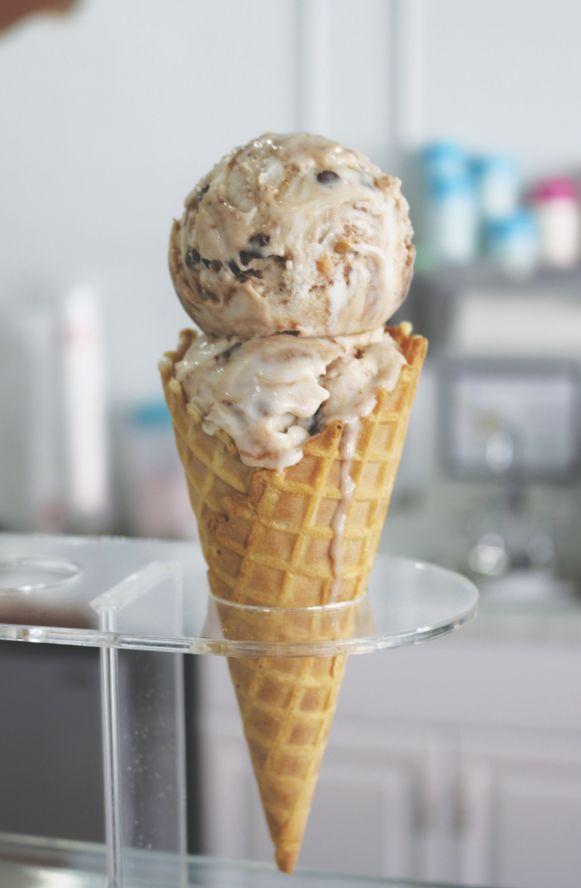 When they decided to open, Tia said they knew they wanted to serve Loblolly Ice Cream because it is local, fresh made, natural and has no additives.
"We wanted it to be an artisanal type feel," Tia said. "They have been fantastic."
Just Ice Cream serves 24 flavors from Loblolly plus Loblolly's macarons. The family also makes their own baked goods in house to sell, including cookies, cakes slices and brownies.
Among the flavors are seasonal options that are only available for a limited time. Tia is expecting the summer flavors soon.
Just Ice Cream offers two speciality flavors for the community. Panther Tracks are similar to moose tracks and Blue Hornet is a blue funfetti. She said when the two are combines, they call it a salt bowl.
There are six dairy free options and most are gluten free. There are also gluten free cones. Loblolly is working on a sugar free option, but it is not available yet.
Just Ice Cream has options from scoops to sundaes to the very popular smash cake. Tia explained for a smash cake they take one of the baked goods and put it at the bottom of a 16 ounce cup, add a scoop of ice cream, more baked good, another scoop and top it with whipped cream and other toppings.
"They have been going like crazy," she said, adding the brownie smash is the most popular.
She can also create vegan milkshakes and cold brew milkshakes. She said many people come in just for the cake milkshake which includes a whole piece of cake.
Tia was surprised at how quickly the shop became popular. She has some people who come in so frequently, they start making their order before the person gets to the counter.
When the shop is not busy, she enjoys sitting down or chatting in the line with her regulars.
One of her regulars is a judge at the Saline County Courthouse, whose employees came in get gift cards for his birthday. She has some regulars who love to show the shop off when family and friends come into town.
"That is really special to us," Tia said.
The family values customer service. Tia said they want everyone who comes in happy.
They sell T-shirts. Anyone who comes in wearing one of the shirts gets a 10 percent discount.
During the COVID-19 pandemic, the shop offered curbside.
"It was so much fun," Tia said.
They did it carhop style. Customers would pull up and they would go out to take the order and bring it out.
She said with schools closed and nothing to do, many people came to get ice cream to get out of the house.
The shop is now offering dine-in with social distancing required.
Just Ice Cream is open from 1 to 8 p.m. Monday through Thursday; 1 to 9 p.m. Friday; 11 a.m. to 9 p.m. Saturday and noon to 6 p.m. on Sunday.
They can be reached at 501-303-7626 and found on Facebook and Instagram.