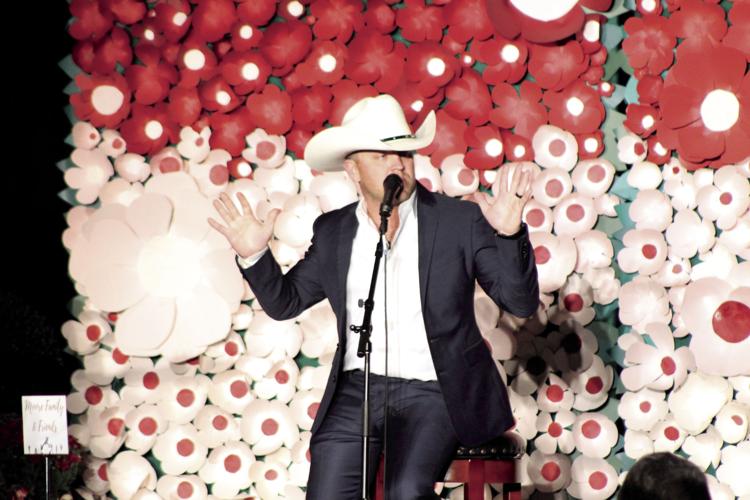 To help the Boys & Girls Clubs of Saline County continue to celebrate 50 years of serving children in Saline County, country music star Justin Moore will be giving his annual performance during the Golden Jubilee celebration. 
Doors at the Clubs' Riverside Park location will open at 5 p.m. Oct. 22. The meal before the show will begin at 5:30 p.m. 
"He is really passionate about his community and the youth in his community," Special Events Coordinator Jessica Franklin said, adding Moore is from Arkansas and grew up in Central Arkansas. His wife co-owns the Downtown Benton stores This Little Piggy and SOCO. 
This is the seventh year for Moore to perform for the Clubs' fundraiser. 
Moore is known for hits such as "If Heaven Wasn't So Far Away," "Bait A Hook," "Til My Last Day," and "Hometown USA."
Franklin said his music is fun and something many people in the area relate to. 
He got involved with the Clubs through his friendship with Board Member Bryant O'Neal. 
The meal for the event will be Italian from Gina's Catering. 
Opening for Moore will be Arkansas native country singer Heath Sanders, who was discovered by fellow Arkansas native Bobby Bones. 
Before the music starts, there will be both live and silent auctions. The live auction will include a trip to stay in a cabin in Montana, a McClure fitness package and a Justin Moore VIP package.
Instead of filling out sheets of paper for the silent auction, guests will be able to shop for the auction on their phones. Franklin said those who don't have a smart phone or need a little extra help can use one of the tablets that staff will be carrying around during the event. 
The website for the auction will go live the day of the event to view items. 
Franklin said the Clubs are planning other fun surprises for the evening. 
David Bazzel, former Arkansas Razorback and host of The Show with No Name on 103.7 The Buzz, will serve as the emcee for the fundraiser. 
Former Club members will speak about how it has affected their lives. 
Franklin said the event should be a fun time to socialize and network. 
The Club is hoping to sell out 100 tables, many of which are already sold. Tables are $1,000 each for a table of 10 or individual tickets are $125. Franklin said both ticket and table purchases are tax deductible. 
Instead of performing with a live band, Moore will either play a guitar alone or might bring another guitarist to perform with him. 
"It feels more personal and intimate than you get at a big concert," Franklin said. "It is a really special event for our Club."
She expects him to perform for 45 minutes, including songs from his latest release, "Late Nights and Longnecks."
"He sounds pretty impressive live," Franklin said. 
She is grateful for both Sanders and Moore, who she said are taking part "out of the goodness of their hearts."
The event will help the Clubs continue in its mission to serve Saline County children. Franklin said they serve 400 children after school every day and 600 a day during the summer. 
"We provide a place they can grow, learn, socialize and eat," she said. 
She feels attending events like the Golden Jubilee is a great way to show support for children in the community.