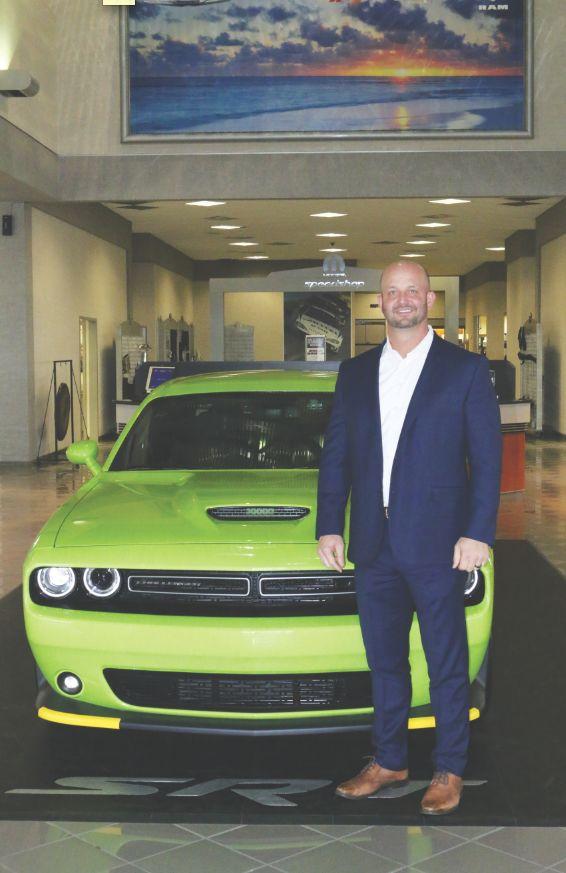 The Benton Landers dealerships and body shop are officially becoming Campbell Chrysler Dodge Jeep Ram, Campbell Fiat Alpha Romeo, Campbell Pre-Owned and Campbell Collision Center. 
"We are excited about being a part of Saline County," said Heath Campbell, co-owner. 
Campbell owns the properties in partnership with Larry Crain Jr. 
Originally from Caddo Gap, Campbell has lived in Saline County for six years. He moved to the area while working for the Rockefeller Group, which had dealerships in Little Rock. He was Rockefeller's vice president for four and a half years. 
Campbell's daughters, Taylor, 14, Weslynn, 13, and Sloan, 9, attend Saline County schools. 
He was excited when the former Landers became available. Campbell and Crain have owned the dealerships since February. 
Campbell's first job was mowing the yard and washing cars for the Gildner dealership in Arkadelphia in 1996. The next year, he held his first sales job at Jones Nisaan Isuzu in North Little Rock. 
He is proud that he started at the bottom and has now risen to owning his own location. He believes that allows him to work well with his employees because he has been in their shoes. 
"I've worked in about every aspect of a dealership," he said. 
Campbell is proud of where the dealership is, on Alcoa Road in Benton where Benton and Bryant meet. He understands this location has been a staple of the community for a long time and the history it has in the community. 
"We take a lot of pride in continuing something that has been here a long time," Campbell said. 
He also likes that it means the dealership has local owners who live only a few miles away instead of being owned by a corporation that is based somewhere else. He thinks that makes a difference because he can be in the dealership every day meeting the customers and working with the employees. 
He feels it allows him to lead by example to ensure every customer gets exceptional customer service. 
"Our number one thing is to take care of our customers," he said. 
His wife, Sheena, and Crain's wife are also involved in the business. 
Another reason Campbell is proud of the the business is he believes he is selling quality products. He said Chrysler Dodge Jeep Ram is one of the oldest manufactures in the United States and makes vehicles that are "reliable" and "dependable."
In the pre-owned dealership, he said there are 300 used vehicles that range from $5,000 to $70,000. His goal is to keep 500 in stock. All the pre-owned vehicles undergo a 140 point inspection to insure they are safe and reliable before they roll off his lot. 
"We want to be the destination for people to purchase premium, clean pre-owned vehicles," Campbell said. 
Between the three dealerships and body shop, Campbell employs an estimated 100 people, which he is proud of. He likes that he can provide good paying jobs with a good atmosphere and good work environment. He considers the staff to be like family. 
He said most of the employees from Landers stayed on under the new ownership. 
Campbell credits the staff with the dealerships' success. The employees made the store number one in September for Chrysler Dodge Jeep Ram sales. 
As he moves forward, Campbell and the staff of the dealerships and body shop all want to build relationships with the community and be a part of it. 
"That is what is important to me," he said. 
Campbell's is located 7800 Alcoa Road in Benton and can be reached at 501-316-4400. 
The sales department is open from 8 a.m. to 8 p.m. Monday through Saturday. 
Parts and service is open from 7 a.m. to 6 p.m. Monday through Friday and 8 a.m. to 3 p.m. Saturday. The body shop from 8 a.m. to 5 p.m. Monday through Friday.