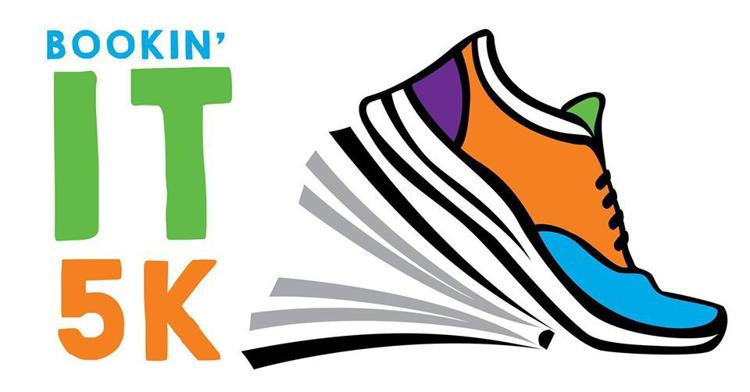 Even though it did not quite reach its fundraising goal, the Saline County Library considers its virtual Bookin' It 5K to be a success.
"Being the first, we had a ton of community support and believe we made it a success," said library marketing manager Kari Beesley.
While the 5K was originally planned to be an in-person event, it always had a virtual option where participants could split the distance up over multiple days or do it all at once. Due to COVID-19 restrictions, the 5K became a fully virtual event.
The idea for the 5K came out of a managers meeting where they discussed the idea of going fineless at the library, Beesley said. The idea of removing fines for overdue items is to reduce stress for busy patrons and ensure people actually return the items. Beesley said research has shown people are more likely to return items if they don't have fees to pay.
The library decided to test it out during the summer, but needed to make up for the funds that would typically come from fees it the budget. Beesley explained the library budget has to account for any possible funds going in or out when its made.
So to make up the difference, the library held the 5K.
Beesley said it was a great idea because there has been requests for a library run from the community.
"We have greater runner support in the community," she said.
When COVID-19 hit, Beesley said the 5K became about bringing the community together and giving people an outdoor, social distanced activity. The library encouraged people to post about it on social media to share with others.
Beesley loved seeing the patrons' social media posts.
While sponsorship was affected, Beesley said local businesses supported the 5K as best they could.
Everett Buick GMC was the presenting sponsor. The bib sponsor was Arkansas Medical Staff. The page sponsors were First Electric Cooperative, Baxley-Penfield-Moudy Realtors, vbCPA Accounting and Orange Theory Fitness. The swag sponsors were RazorShred, Sugar Mama's Bakery, Farmers Insurance Deanna Oates Agency, Papa John's Pizza and LaShelles Ad Specialties and Apparel.
The event had 63 total participants and raised $2,306.24 in profit for the library.
"I had so much fun with it," Beesley said.
She plans to hold the event next year. She hopes to hold it as an in person event instead of virtual. Beesley said the library staff had created a story participants would run or walk through and she still wants to provide that experience.
The library has decided to still go fineless for the summer and see how it goes.
Beesley said the staff understand people are going through a lot with COVID-19 and do not want patrons worrying about fines.
Herzfeld Library in Benton is currently offering curbside pickup for all book holds from 2 to 6 p.m. Tuesdays and Thursdays and Saturdays from noon to 4 p.m. Holds can be placed at www.salinecountylibrary.org or by calling 501-778-4766.