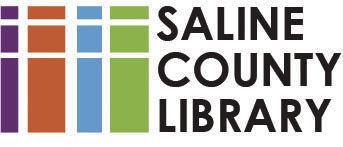 With Summer Reading being so popular, the Saline County Library decided to hold Winter Reading starting Dec. 2 at both library branches. 
"It is a scaled down version of our summer reading that provides incentive for kids to read over the school break," said Youth Services Manager Sarah Beth Lesko. 
Beginning Dec. 2, patrons can pick up their Winter Reading Bingo card. There will be cards for children up to age 8, 9 to 18 and adults with different activities patrons can complete to get a Bingo that varies based on which age card a person gets. All the cards have watch a movie based on a book as the center square. 
Patrons will need to complete one bingo across, up and down or diagonally to win a prize of a book or a book buck to spend in the Friends of the Saline County Library Used Book room in Herzfeld Library. 
"This year we are starting small and we will see how it goes," Lesko said. 
The bingo game will go through Jan. 4. 
During December, Lesko said, there will be scaled back story time offerings. There will be a toddler story time at 10 a.m. on Mondays in Benton; a family story time at 10:30 a.m. Tuesdays in Bryant: and family story time at 10:30 a.m. Thursdays in Benton. Evening story time will continue at 5:30 p.m. in Benton. 
Puppy tales will be at 10:30 a.m. the second Saturday in Benton and the third Saturday in Bryant. 
Master Builders, Tween Tuesdays and Table Top Teens will all continue at 4 p.m. on Tuesdays in Benton. 
Benton will host Crafting with a Cause at 3:30 p.m. on Wednesdays and Christmas crafts will be at 4 p.m. in Bryant on Wednesdays. 
The library has several special programs planned for the month of December. 
Patrons will be able to decorate gingerbread houses at 3:30 p.m. Dec. 12 in Benton and 4 p.m. Dec. 19 in Bryant. 
The library will be bringing back its popular Family Self Defense Class with All-Star Martial Arts at 2 p.m. Dec. 7 for ages 5 and up. Lesko recommends participants wear clothing they can move in.
"It is an active class," she said. 
The library branches will offer winter crafts at 3:30 p.m. Dec. 17 in Bryant and Dec. 19 in Benton before Santa Claus makes his stop at both locations. 
Santa will be stopping by the library from 5 to 6:30 p.m. Dec. 17 in Bryant and Dec. 19 in Benton to hear what children are wishing for and let parents take their child's picture with him. Santa will have a gift for each child. 
Parents will need to bring their own camera to take pictures. 
At 10 a.m. in Bryant on Dec. 23, patrons can enjoy hot cocoa and watch "The Polar Express."
From 9 a.m. to close Dec. 16 through 20 and Dec. 23, Benton will have a wrapping and crafting station. Patrons can wrap gifts, make crafts and enjoy Christmas movies. Before those dates, there will be a limited amount of gift wrapping items near the computer area. 
Winter Reading will finish off events with the New Year's Eve party for children at 11:30 a.m. in both Benton and Bryant. Instead of a midnight celebration, they will count down to noon with a story time, a balloon drop at noon and music. 
"Winter is the best season for reading because you can be snuggly inside with cocoa and a book," Lesko said.