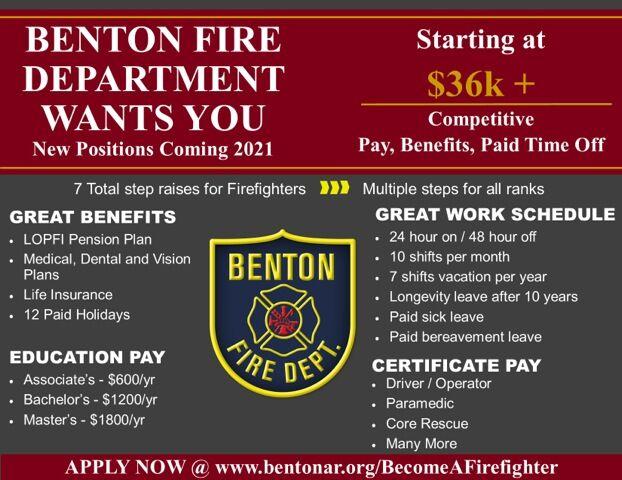 The Benton Fire Department is gearing up to hire a number of new firefighters for the department and is eager to get the word out about the hiring process and let people know how to become a part of such an important group that is not only a vital part of the community, but a second family for each firefighter.
"Last year, we had about 15 or 20 take the tests and we are looking to up that and get the word out," said BNFD Battalion Chief Bryan Ware.
Ware, who is a long-time member of the BNFD, said that he enjoys coming to work every day.
"It's a rewarding career," Ware said. "There is ample opportunity for advancement in this career and you get to help people on a daily basis. To me that says something. If someone has been in a job this long like I have and truly enjoys coming to work, that's a good career and most of our (department) will say that ... it's a family type atmosphere here."
BNFD Captain Mitch Bloom recently celebrated 15 years with the department and echoed Ware's thoughts saying that he also loves the family type atmosphere the firefighters share and having the chance to help community members.
"You do see people at their worst," Bloom said. "They have pain and suffering and their house has just burnt, but in turn you are helping them through those situations. You see them at their worst, but you get to help them through their worst. It absolutely what we are here for, to serve the citizens."
Ware added that he loves the fact he gets to help people in their own community.
"It really is one of the most rewarding careers you could ever have," Ware said. "It really is."
Benton Fire Chief Bill Ford said he is excited about the growth of the department.
"We are growing and we're dynamic," Ford said.
Assistant Fire Chief Russ Evans added that he loves the fact that his job is different every day.
"Even for the administrators," Evans said. "We don't always make the runs, but it's still something new on a daily basis."
Applicants must be between the ages of 18 to 35 and must hold either a high school diploma or a GED. Application packets may be picked up at the Benton Municipal Complex. The last date to turn in an application is March 5. A recruitment video is available to watch on www.bentonar.org/becomeafirefighter.
The first part of the process after picking up and returning an application packet is the physical agility test which must be passed before an applicant can continue with the process. The test is not timed, but is pass/fail format. The test will be offered four times this year — Jan. 23, Feb. 13 and 27 and March 13. Ware said that if an applicant does not pass the test, they are encouraged to come back on one of the later testing dates and try again. The department has also created a video dedicated to showing what is required on the agility test that can be found on the website.
"I would encourage applicants to start with the first (available date)," Ware said. "It gives you some leeway if you don't pass. If you run into an issue, you can come back and do the next one."
Ford added that having a diverse pool of applicants is also one of the focal points the department wants to emphasize. While there are currently no female firefighters with the department, the BNFD is actively looking to change that.
"We highly, highly encourage diversity," Ford said.
Those who pass the test will then move on to the next phase of the hiring process which is a written examination given on the first Monday in April. Ford added that the test is a 100-question, general knowledge exam and applicants must score 70 percent or better to move on to the interview portion of the process. Once the interview portion is complete, the department then ranks the applicants and the Civil Service Commission certifies the hires. The list is good for a year. Those who are hired will go on to a 15-week training program mandated by the state unless the firefighter already has experience.
According to Ford, everyone who joins the department starts at the same level even if they are coming from another fire department. His reasoning is that it leaves no opportunity for people to say that the hiring is unfair. He also added that he believes someone who has been with the BNFD for a while has a greater knowledge of the community and that knowledge is invaluable to the department in emergency situations. While someone entering the BNFD from another fire department may have more years under their belt as a firefighter, they may not be as familiar with the community.
"It evens it all out," Ford said. "It's an industry standard."
Salary begins at $36,000 annually with a multitude of benefits including pension plans, medical, dental and vision insurance, life insurance and 12 paid holidays.
"I tell anyone, especially young firefighters, you need to look at the endgame," Ford said. "Look at your retirement, your benefits. The city of Benton has been phenomenal to us. That's how we keep our people."
Ford added that in 2019, the department kept 100 percent of its firefighters, save for those that retired. Those who did retire had been with the department for over 30 years. In 2020, the department had several firefighters retire who had 30 to 35 years under their belt with the department.
Evans also spoke on the endgame factor saying that if a firefighters joins the department at 18, it's possible for them to look at retiring as early as 46 or 47 years old if they choose.
Firefighters work 24 hours on and then have 48 hours off and work 10 shifts per month. They also have seven vacation shifts per month along with longevity leave after 10 years with the BNFD. Firefighters also have paid sick leave, as well as paid bereavement leave.
Additional pay opportunities are also available, including extra certificate pay for those who hold drive/operator, paramedic or core rescue certificates. Other certificate pay is also available. Education pay is also offered with an extra $600 per year for those with associate degrees, $1,200 per year for those who have bachelor's degrees and $1,800 per year for master's degrees.
"It's just a good career," Ford said. "We all enjoy it ... this is one of the best jobs in the world with the best benefits in the world."
Bloom said that the camaraderie among the firefighters is like nothing else and Evans added that being a part of the BNFD has been one of the greatest decisions he has ever made.
"You start friendships with people that last you a lifetime," Evans said. "If Bryan called me in the middle of the night from Hot Springs and needed a tire, he could call me and I would be headed to Hot Springs with a tire ... it's a bond that you don't have working someplace else."