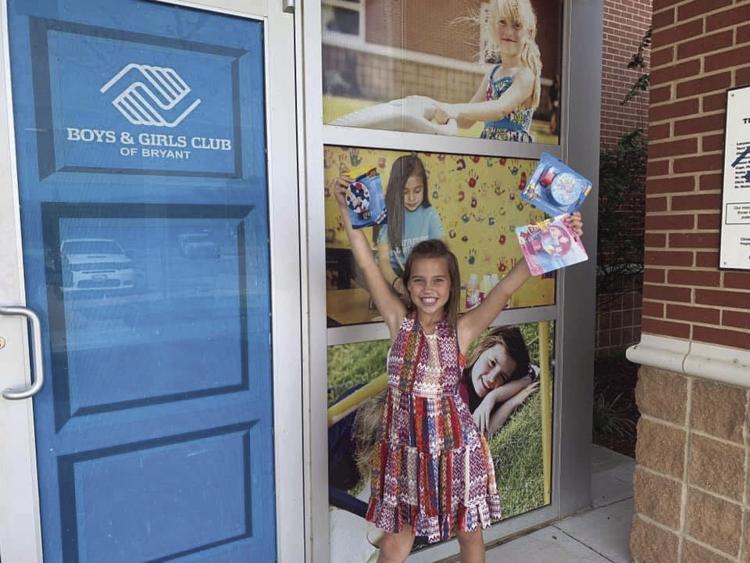 One local girl is proving that no matter how small, anyone can do big things. 
When Amelia Lisowe, who was 7 at the time, was told she was too young to volunteer, she just wouldn't accept that she couldn't make a difference. 
"She was on this mission to show kids that just because someone says you are too little, doesn't mean you can't make a difference," said Lauren, Amelia's mom. 
Amelia had long helped her mother volunteer with the different organizations including with foster care organizations such as The Call of Saline and Perry Counties and the Court Appointed Special Advocates of Saline County. Lauren would also talked to her children about the work she does. 
Amelia began working to show children they could do big things during her time serving as Little Miss of Arkansas with her "Spread  A Little Joy" campaign. 
"Just because you are little, you can do a lot," Amelia said. 
She had an idea that she could collect night lights for children in foster care. Lauren said the project started small. The family asked for donations from family and friends. 
From there, Amelia went to her school counselor and held a hat day at her school to raise money. Amelia explained students could pay $1 to wear a hat or crazy hair to school. 
That campaign raised $511. Lauren's employer, Riggs Cat, donated $200 on top of the money raised. 
They bought night lights and had a friend who works for Mid-South as a Department of Human Services trainer distribute the lights to agencies in Lonoke, Pulaski and Saline counties. 
"We kind of thought the project was done," Lauren said. 
In August of this year, THV11 did a story on Amelia about an "ordinary child doing extraordinary things." The day after the story ran, Lauren woke up to a bunch of text messages from friends on the East Coast. It had been shared to news stations all over from Arkansas to the coast. 
"It kind of went viral," Lauren said. 
They were contacted by a producer from CBS This Morning who wanted to do a story on Amelia. 
A vendor was in town visiting where Lauren worked, so she was in meetings all day, but made everyone stop to watch the show. The vendor suggested they go to www.salesforce.org, a place that donates to nonprofits.
"People started wanting to give us things, but we had to be a nonprofit," Lauren said. "So we incorporated in the state of Arkansas and with the IRS." 
Before the week was over, the director of development for Munchkin Brand Toys reached out and sent a pallet full of night lights. 
By the end of the year, Amelia wants to send out 25 night lights to every state in the country and every county in Arkansas. 
Amelia said collecting the lights for foster children makes her feel like they are family. 
Birch Tree Communities across the state, including in Benton, are collecting lights through Dec. 16. Anyone wishing to donate can stop by Birch Tree to drop them off. 
Lisowe's Lights will hold a Nightlight Stuffing Party at 6 p.m. Dec. 19 at the Boys & Girls Clubs of Bryant, 6401 Boone Road, in Bryant. Participants need to reserve a spot to help through the Facebook event. 
While shopping for the holidays, anyone using Amazon.com can make purchases through Amazon Smile and designate Lisowe's Lights to get a percentage of purchases to the organization.
They are also in need of children to draw cards to go along with the lights. 
Lauren likes that instead of just shipping the lights directly to the foster organizations, they partner with someone local to deliver them. She said it allows them to deliver them as a family and spreads the awareness of the importance of foster care and volunteering together as a family, like the Lisowes. 
One reason Amelia chose night lights is that children in foster care are often taken from their family during the night and sent somewhere new. 
Lauren said one partner had recently taken in two boys who were afraid of the dark. The partner said something about getting the lights from another child made them feel safe. 
Lauren and Amelia agree that they have been overwhelmed by the support from the community and beyond for this new organization. 
The company 4Imprint sent them 150 Lisowe's Lights branded night lights. 
Anna Bowman, of Fostering the Arts, wanted to partner with Lisowe's Lights. During the Fostering the Arts annual Chocolate Ball, Lisowe's Lights will have a basket giveaway. Anyone donating a light at the event will be entered to win. 
They are currently seeking businesses to donate items for the basket.