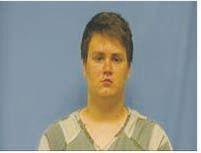 A Little Rock man has been charged with manslaughter, a class C felony, in connection to a fatal motor vehicle accident that took the life of a Jacksonville teenager in Saline County in October 2019.
Hunter Bienick, 19, has also been charged with second degree criminal mischief, a class D felony.
According to court records, the Saline County Sheriff's Office responded to the scene of a two-vehicle accident on Eddie Road near Ja-Hub Road at approximately 11 a.m. Oct. 20.
Bienick was driving a Pontiac Grand AM southbound on Eddie Road at approximately 73 miles per hour in a 35 mph zone with 16-year-old Kennedi Wiley as his passenger. A second vehicle, a Ford pickup, was turning north onto Eddie Road from a private driveway. Bienick lost control of the vehicle and crossed the center line, striking the front of the pickup
The driver of the second vehicle told deputies that as he entered the northbound lane, he saw the vehicle driven by Bienick top the hill at a high rate of speed. After the impact, the second driver attempted to aid Bienick and Wiley, but was unable to do so due to the damage to vehicle.
Bienick was transferred to the University of Arkansas for Medical Sciences in Little Rock for treatment for his injuries. Wiley would suffer fatal injuries.
According to court records, Bienick is no longer in custody at the Saline County Detention Center and no court date has been set.