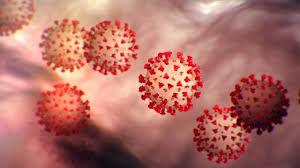 Gov. Asa Hutchinson's weekly COVID-19 update on Tuesday covered a variety of topics.
He started by honoring International Week of the Deaf. Students from the Arkansas School for the Deaf delivered a message in sign, reminding of the importance of wearing a mask, social distancing and washing hands. They thanked the governor and community for taking responsibility to keep everyone safe.
Eddie Schmeckenbecher, the sign language interpreter for the briefings, interpreted what the students said. He is also a teacher and administrator for the school.
Hutchinson reported 486 new cases of COVID-19 over the previous 24 hours. Of those, 21 were in correctional facilities and 465 were in the community. The cumulative total is 74,772 cases.
Hospitalizations rose by 12 to 450 with 88 on ventilators.
Deaths went up by 12 to 1,060.
Results for 6,810 PCR tests were received, bringing the month's total to 163,704. Hutchinson said the state is well on its way to meeting the September goal of 180,000 PCR tests.
Over the 24 hours leading up to the briefing, there were 651 antigen tests received with 112 positive. For September, there have been 13,863, passing the 10,000 test goal for the month.
The top counties with new cases are Pulaski with 80, Benton with 55, Craighead with 30, Sebastian with 28 and Washington with 26.
Saline County has had 1,968 total cases — 1,894 confirmed and 74 probable. There are 127 active cases — 115 confirmed and 12 probable. There are 1,817 recoveries — 1,757 confirmed and 60 probable. There have been 23 deaths — 21 confirmed and two probable.
Across the country, there have been 6,882,969 cases with 2,615,974 recoveries and 200,477 deaths.
Hutchinson discussed the future and the state's strategies.
"I want everyone in Arkansas prepared for what's ahead," he said.
There are five parts to the state's winter strategy.
First, the state is encouraging everyone to receive a flu shot. Hutchinson said he will be getting his.
"The flu vaccine is effective and safe," said State Epidemiologist Dr. Jennifer Dillaha.
She explained half of those who get the shot will never get the flu. The other half who get the flu will have less severe symptoms.
The shot will keep people out of hospitals, which are already dealing with COVID-19.
The flu shot is available at local health units. Many are offering free drive-up or walk-up flu clinics.
She said the shot is also available at local pharmacies and doctors offices.
The second part is to increase testing for COVID-19. The state has set a goal to hit 1 million PCR tests by Oct. 20. So far, there have been a cumulative total of 897,000 tests.
The state also wants to increase the consistency of contact tracing.
"It is a key part of the strategy," said Stephanie Williams, Arkansas Department of Health chief of staff.
She said ADH is always working to improve the process and make it go faster.
The fourth strategy is to continue wearing masks and social distancing.
Hutchinson said the final strategy is to not grow weary.
Secretary of Education Johnny Key said the state is in the fifth week back to school. In that time, 106 districts have had to have some form of modification, including blended and virtual learning. The modifications have ranged from the entire school going virtual for a time to one class having to modify. Currently, 23 districts are modified. One of the 23 is modified due to a water line break.
As the districts move forward, he said they are refining their plans.
He feels schools have been successful.
Key said getting enough substitute teachers for districts is an ongoing challenge, but it is a local responsibility, not something for the state to remedy.
He said the availability of substitutes must factor into district plans.
Secretary of Corrections Solomon Graves gave an update on the Department of Corrections.
There are 379 active cases within correction facilities. The peak was 1,001 in July. There are seven being treated in hospitals with two on ventilators.
Since the beginning, 182 have been treated in hospitals and 39 inmates have died.
The department has resumed intake of male inmates in cohorts of 48. As they come in, they are quarantined for 14 days. During that time, they are tested at least three times.
Positive cases are held in isolation along with their cohorts.
Those who show symptoms and those getting ready for release are tested along with any inmate who has been exposed.
He encourages all the corrections employees to continue to be vigilant.
Secretary of Commerce Mike Preston gave an update on the Lost Wages Assistance Program, which is starting to pay its second week.
So far, the program has paid $47 million.
Those under Pandemic Unemployment Assistance already qualify. Those who were on regular unemployment due to COVID-19 must go in and recertify by Friday.
He reported currently there are 37,000 people on unemployment and 42,000 on PUA. He said these are the lowest numbers since the pandemic began.
"People are getting back to work in a safe and secure manner," he said.
Asked about the replacement for the recently decease Justice Ruth Bader Ginsburg on the United State Supreme Court, Hutchinson said it is the president's duty to nominate someone and the United States Senate's duty and responsibility to holding a hearing and a vote.
He claimed that was his same stance in 2016 when the Senate refused to hold a hearing on President Barack Obama's nominee when a seat became available.
Hutchinson was also asked about Halloween and if the holiday would be cancelled.
"I don't know that is my prerogative," he said, adding many young people have written him letters asking that the holiday not be cancelled.
He feels the holiday can be celebrated safely as long as the guidelines are followed. He said closer to the holiday the state would issue specific guidance.
Asked about recent Centers for Disease Control and Prevention guidance about how COVID-19 is transmitted, Hutchinson said it actually strengthens the need to wear a mask.
Hutchinson has moved his updates to a weekly format. The Saline Courier continues to cover the pandemic each day.