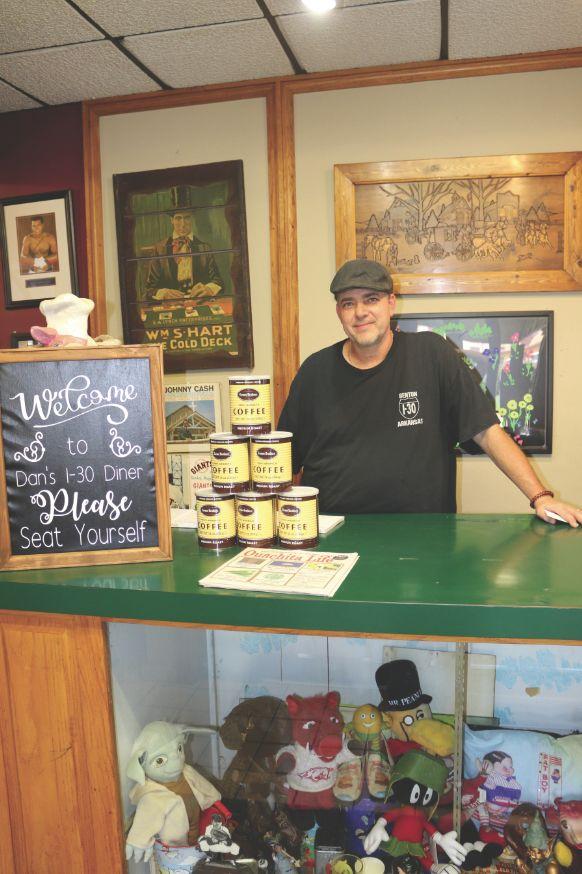 The owner of Dan's I-30 Diner sees great customer service and quality food for good prices as the keys to his diner's success in the community. 
"We want people to be happy when they come in," saoid owner Dan Reed, who has had the eatery for 11 years in the same location along the southbound service road. 
He describes Dan's as a traditional hometown diner which serves fresh made food for customers from bacon and eggs or pancakes in the morning to chicken fried steak topped with white gravy and sides or burgers and fries for lunch. 
When Reed decided to open the diner he was coming from a different area of food service as a food broker. As a food broker he was traveling all over selling food to a wide variety of restaurants, which gave him some insight into what he wanted to do with Dan's. 
At the time, his son, Joshua, was young. Reed wanted to spend less time on the road and more time with Joshua. So he decided he enjoyed working with food and opened the diner. 
"I have always had a passion for cooking," Reed said, who still cooks four days a week in the diner. 
He originally moved to Benton long before opening the diner when he worked in circulation for the Arkansas Democrat-Gazette. 
Reed said his diner is not the first to occupy the building. Before Dan's, it was a diner called Pinkie's. 
Reed is proud that everything at the diner is made-to-order, not pre-made and sitting around. 
While he does have many customers who love his lunch, Dan's is known for its breakfast. Reed said he has groups that come in and sit at the same tables every day just for the breakfast. 
"We feel we have got the best breakfast in town," he said. 
Reed is also proud to offer some items customers may not commonly find other places, such as chocolate gravy at breakfast and corn beef hash for lunch. 
He also emjoys that he can offer meals that are both a good quality and that diners can easily afford. He tries to ensure every plate has a good portion of food. 
"We don't want people leaving hungry," he said. 
Reed believes in good customer service and enjoys the many compliments he receives from customers about how good his staff is. While a restaurant is a high turnover industry, he said he has a few on staff who have been with him for a long time. He always seeks to find good people who care about his customers.
Currently, Dan's employs 12, plus Reed. He is proud to provide jobs in Saline County. 
Reed said he hopes Dan's is looked on well by the community. He tries to give back to the schools, specifically the local Fellowship of Christian Athletes organizations. 
It means a lot to him to have his diner in Benton where he lives. 
"I want it to be something the community people consider nice with a family atmosphere," Reed said. 
Dan's is decorated with an eclectic variety of vintage items and signs. Reed said his father collects antiques and he lets him decorate the diner with his finds. Many of the items around the diner are actually available for purchase if someone sees something they would like to take home. He said people seem to enjoy his dad's decorations. 
Dan's is located at 17018 Interstate 30 N. in Benton. It can be reached at 501-778-4116 and is online at www.dansi30diner.com. The diner is open seven days a week. The hours are 7 a.m. to 2 p.m. Sunday through Friday, and 7 a.m. to 1 p.m. Saturday.
Reed wants to encourage anyone who has never stopped by to come in and try his food and enjoy the friendly staff.