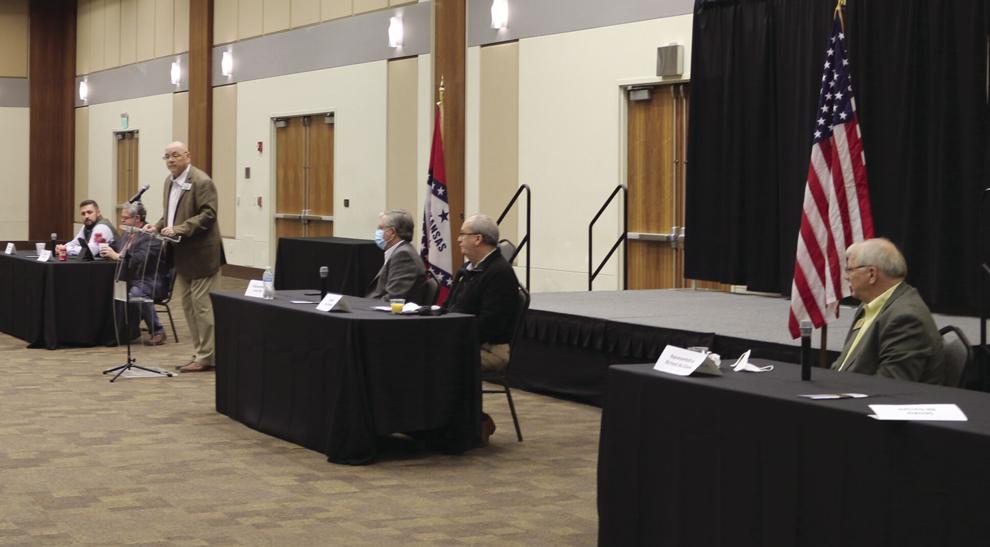 Friday morning, five local legislators discussed legislation they are working on and answered questions during the Legislative Breakfast at the Benton Event Center.
The event was put on by the Greater Bryant Chamber of Commerce, the Benton Area Chamber of Commerce and the Hot Springs Village Area Chamber of Commerce.
The legislators present were Rep. Tony Furman, Sen. Alan Clark, Rep. Lanny Fite, Sen. Kim Hammer and Rep. Richard McGrew.
Rep. Keith Brooks sent his regrets due to the fact the bad weather kept him away. Rep. Julie Mayberry was also unable to attend due to family medical concerns. She did send a message about her legislation.
"This is a great group to work with," Clark said.
Each legislator received a chance to speak, starting with McGrew, who is new to the legislature. He has been working on Payroll Protection Plan loans and unemployment. He said the federal government has decided not to tax those, also, at the state level, they are working to ensure they are not taxed either.
Hammer had several items he is working on. Previously, the legislature had a PANS/PANDAS advisory council and he is working to reestablish that. He is working on legislation to require Medicaid to pay for treatment.
He was proud to say Arkansas Children's Hospital, in partnership with the University of Arkansas for Medical Sciences, made Children's a Center for Excellence in the treatment of PANS/PANDAS. He added the initiative was driven by Saline Health Systems.
Another bill he has been working on that came out of Saline County is to make tablets tax exempt for schools. The bill was recommended by Bryant Superintendent Dr. Karen Walters. Hammer explained text books are tax exempt, but now schools use tablets more.
"(It) will help schools out," Hammer said.
He is also working on a bill that requires perpetrators of sexual assault to be tested for HIV.
He is working on legislation to take the enforcement off of places of business and put it on individual violators of the mask mandate and other health issues.
The last bill he mentioned is to balance the emergency powers granted to the governor and include more input from the legislator.
Fite said he has a bill to move the Elective Cooperative out from under the Public Service Committee. He talked about how the coops are running fiber cables into rural areas to read meters and those cables are also going to be used to get broadband out to those areas. He expects many areas to have access in six to seven years.
He is putting out a bill to end the soft drink sales tax, which he said was unfair.
In answer to a question later, he said they are working to replace that revenue for funding Medicaid. He said there would never be a budget that did not fully fund Medicaid.
Hammer and Fite are working together on a bill that would double the "look back" period — the period of time an offense remains on a person's record — from five years to 10 years for those with up to five driving under the influence convictions.
"People like that put people in our community at risk," said Saline County Prosecutor Chris Walton as he helped Fite explain the bill. He and Saline County Sheriff Rodney Wright suggested it to Fite and Hammer.
He is also working on bills to stop cities from putting road funds in their general revenue and to allow city councils and quorum courts to meet virtually during an emergency declared by the governor.
Clark has a bill that would require all custody agreements to start as joint custody of a child unless one party can prove it should be otherwise.
"The system has not placed value on fathers for decades," he said.
He has a bill that would make polling places not private property for the day of the election so that signatures can be gathered, signs put up and other political activities. It would match national law.
He also wants to see child welfare courts opened up, though judges could still close the individual court. He said those invested in the proceeding, such as family members or friends should be able to attend.
He is proposing six constitutional amendments, including allowing cities to go into debt for more than five years to purchase a fire truck, allow for the state to be sued and allow the legislature to recall itself.
Furman, who is in his first term, said he is spending time learning the rules and procedures.
He is a foster parent and he is working on a bill to make it easier to make foster children who have signed themselves out of the system at 18 to get back in the system if they want or need to. He said foster children can stay in care until they are 22.
He is also working on license reciprocity, where if someone in another state has a license and is in good standing for a year, if they move to Arkansas they can retain the license.
If a person is in a state that does not require a license that Arkansas does, if they have three years experience, they can receive it if they move to Arkansas.
Furman said the goal is to incentivize people to move to the state.
Hammer read a message from Mayberry. She is working on a No Patient Left Alone bill that would allow one individual to be with someone in the hospital or long-term care facility.
Brooks is working on a package of election integrity bills, Hammer said.
Hammer wanted to make sure people realized while there are precautions in place, they can still come to the Capitol to view proceedings and testify. It is not closed.
Asked about proposed hate crime legislation, Hammer said he has heard no progress on it and that there has been resistance to it.
Clark said there are not enough votes to get it out of the judiciary committee. He previously told the state Chamber of Commerce not to expect it.
Hammer answered a question about his Medical Conscious bill. He said it was crafted by the Americans Defending Freedom Fund. Healthcare providers would be required to provide emergency medical care to everyone, but they would not be required to provide nonemergency care that went against their personal beliefs. His examples were a nurse could not be forced to assist in an abortion or a doctor could not be forced to perform gender reassignment surgery.
"It gives medical providers protection," he said.
The next Legislative has not been set at this time.