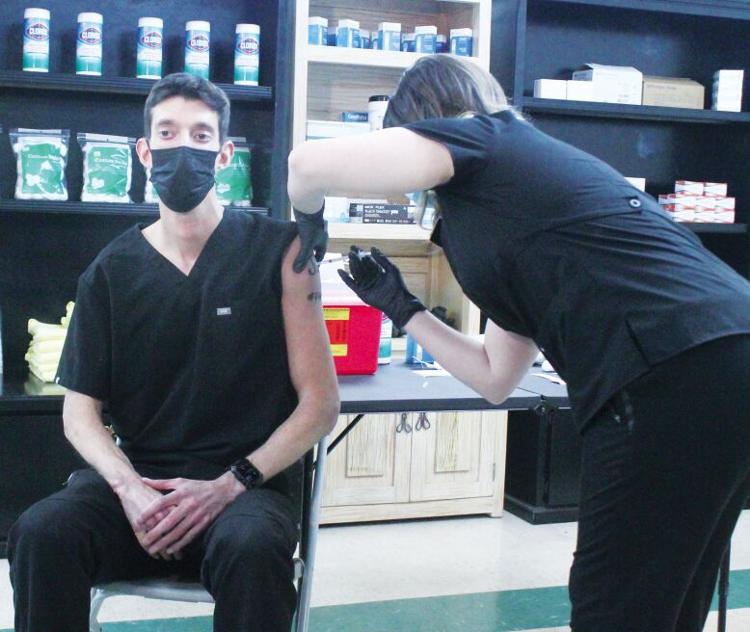 Blake Torres, pharmacist and co-owner of West Pharmacy in Benton, received the first COVID-19 vaccine administered in Saline County today.
Administered by Clinical Pharmacy Services Specialist Dr. Allie Staton, the vaccine is one of five to be given to West Side's staff today.
More history was made Tuesday regarding the COVID-19 pandemic.
Saline County received its first shipment of the recently approved Pfizer COVID-19 vaccine.
The shipment arrived at West Side Pharmacy in Benton early Tuesday, according to Clinical Pharmacy Services Specialist Dr. Allie Staton.
The Tier 1 Pharmacy — one of only five in the state — received 975 doses of the vaccine.
"Our first allocation contained one tray (975 doses)," Staton said. "Because we were chosen as one of the five pharmacies in Arkansas to be a Tier 1 Pharmacy for the COVID-19 vaccine, we are required to serve as a point of distribution for smaller hospitals across the state. That means our first priority is to distribute the vaccine to those hospitals assigned to us. Nine-hundred and fifty of our 975 doses are allocated to those hospitals."
Pfizer — which made history for developing a vaccine for a new illness in less than a year — announced recently that its vaccine is more than 90 percent effective in preventing COVID-19.
Following allocation to hospitals, the remaining 25 doses will be administered to the five administrative staff members of West Side and front-line healthcare workers who have been identified to be in the "Phase 1A" of the COVID-19 vaccine distribution.
"This list includes people like first responders, primary care clinic employees, school nurses, pharmacy staff, etc. The Office of Emergency Management for each county in Arkansas have been tasked with determining allocation for their county," Staton said.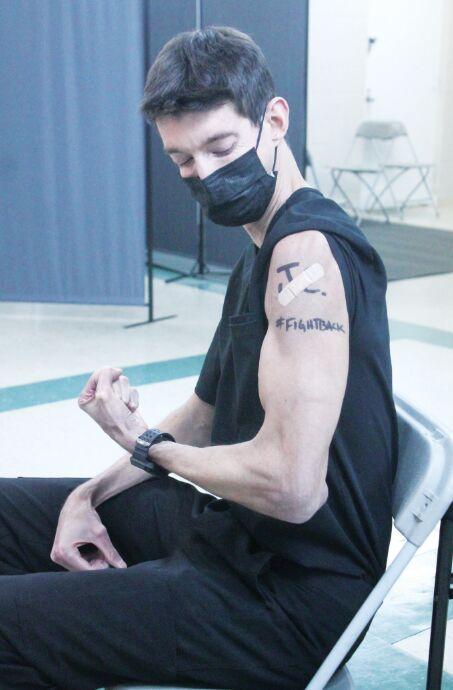 She added that the Saline County office recently formed the Saline County COVID-19 Vaccine Task Force, which includes those who will be playing a vital role in distributing and administering the vaccine to healthcare workers and residents of Saline County.
"It is very important for the public to know that this vaccine will not be available to the general public until the vaccine is more readily available, which will likely be next spring," Staton said.
The doses shipped to West Side are "extremely sensitive" and have specific storage and handling requirements.
Once a vial is removed from the freezer, it must be administered within 120 hours of removal. At a minimum, the vial of vaccine must be thawed out for 30 minutes at room temperature before it can be prepared for administration. After the vaccine is thawed, a diluent is added to the vial, then the vaccine is ready to be administered. Each vial contains five doses of the vaccine and once the diluent is added to the vial, all five doses must be administered within six hours.
"Our team at West Side Pharmacy has been working hard for months to combat the COVID-19 pandemic. We have been offering COVID-19 testing at our pharmacy since July. It is an honor to have been chosen as one of the five pharmacies in Arkansas to serve our community and continue to help stop the spread of COVID-19," Staton said.
See today's issue of The Saline Courier for full coverage of the vaccine.