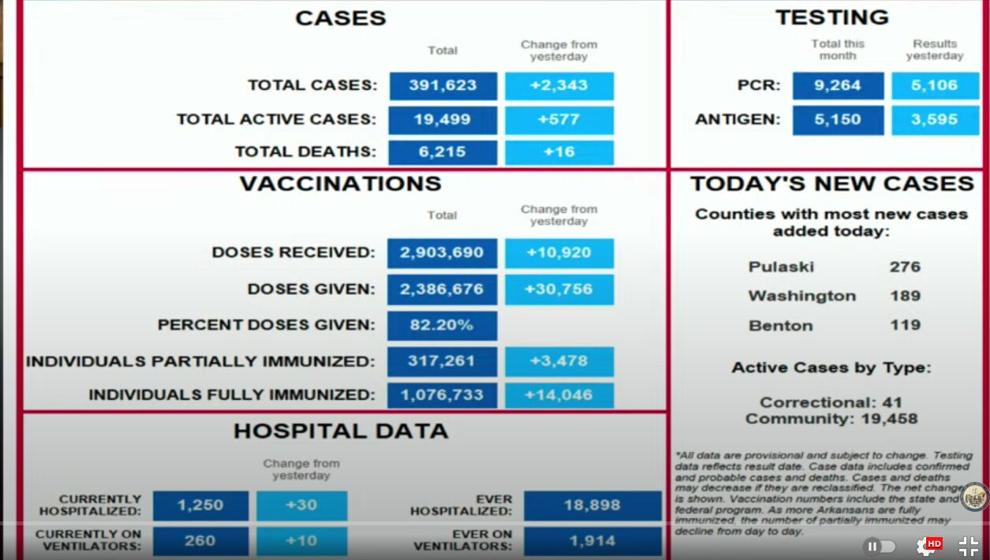 According to the Arkansas Department of Health on Tuesday, there were 2,343 new cases of COVID-19 across the state bringing the cumulative total to 391,623. Active cases rose by 577 to 19,499. Deaths went up by 16 to 6,215.
Hospitalizations increased by 30 to 1,250 with 260 on ventilators.
The state received results for 5,106 PCR tests and 3,595 antigen tests.
The counties with the most new cases are Pulaski with 276, Washington with 189 and Benton with 119.
Saline County has had 14,743 cumulative cases and currently has 896 active cases and 13,659 recoveries. The county has had 185 deaths.
Nationally, there have been 35,174,217 cases with 614,068 deaths.
Arkansas has received 2,903,690 doses of COVID-19 vaccines and given 2,386,676 or 82.2 percent.
There are 317,261 people partially immunized and 1,076,733 fully immunized.
The full story on Gov. Asa Hutchinson's weekly COVID-19 news conference will be in Wednesday's edition of The Saline Courier.